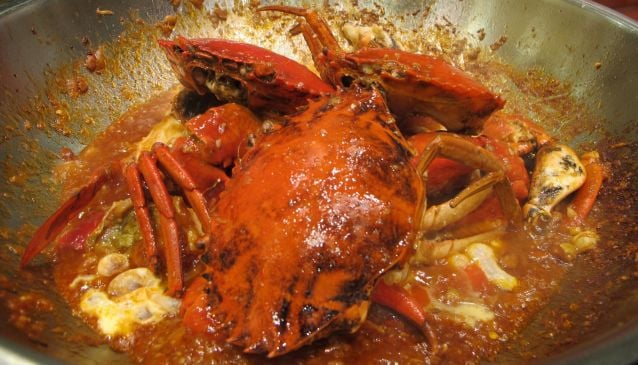 My Destination Singapore Kitchen- Chilli Crab
Food & Drink
The best way to enjoy it is to go all-barbaric. Forget about etiquette, eat with your hands!
Myriam Ohlig for My Guide Singapore
With the
Singapore Food Festiva
l having just ended, we're still very hungry and always ready to chow down into
Singapore's best local food
. But if you've only had one meal to try in Singapore, what would it be? For many tourists, it's the first dish they want to dig in while visiting. It was ranked #35 in the World's 50 Best Food by the CNNGo's readers in 2011 and it's also the top selling dish in the country. Any guess? Singapore's famous Chilli Crab, of course!
Even though you can easily find it in many
restaurants
on the island especially the
seafood ones
, we've decided to spread the word about this much beloved spicy seafood stew during this food season. For this edition of My Guide Singapore Kitchen, we've teamed up with Chef John See from the
Food Dot
to show you with a
video
how to cook the popular Singapore Chilli Crab. This gonna be easy and very tasty!
Here's the recipe!
Serves 4 to 6
Preparation Time: 30 minutes
Cooking time: 20 minutes
Equipment: 1 long-handled wok, chopstick to kill the crabs and 1 large knife to break them into pieces.
The Chilli Crab is truly Singaporean! It was created by Mr. Lim Choon Ngee and his wife Mrs. Cher Yam Tian in 1956. Today's recipe doesn't differ that much from the original one except for the chilli sauce which nowadays is bought in bottle. To find our ingredients, we followed Chef John See in
Tekka Market
,
Little India
who chose the freshest and fleshiest Mud crabs. For this recipe all the ingredients can be found at your local
market
or grocery store. Just make sure you choose some large ones like the Scottish Brown crabs, the Alaskan King crabs or the Sri Lankan Mud crabs, which are especially popular in Singapore for their meaty flesh.
As a rule of thumb with any Asian recipe, do have all your ingredients prepared beforehand.
Ingredients
2 kg Live Mud Crab
3 to 4 Eggs beaten
1 pot cooking oil (vegetable oil except olive oil)
35 mg minced ginger
50 mg minced garlic
100 mg shallot
½ cup cornstarch (corn flour)
½ chicken stock
3 tbsp. salted bean in jar
¼ cup chilli sauce
½ cup tomato ketchup
1 pinch salt
1 pinch sugar
Garnishes
10 mg sliced red chilli
10 mg sliced spring onion
15 mg Chinese coriander leaf
a few Mantou buns or French loaf
Method
The preparation of the Chilli Crab requires you to kill the crabs, to fry them, to cook the chilli sauce then incorporate the crabs into the gravy.
Make sure the crab is tied up. Open the back of the crab and prick it with a chopstick. When the crab doesn't move anymore, open up the strings get a cloth and break off the claws. Clear the strings away then scrub-clean the crab. Prick open the crab when the crab has been broken into two, take away the legs, smash the pincers and set aside. Remove the grill and break into bite sizes so that it's easier to eat. Wash them thoroughly.
Pat dry them to make sure you don't burn yourself while placing the pieces in a wok with hot boiling oil. It has to be sizzling. Fry for 2 minutes or until bright red in colour. Set the pieces aside and remove the excess of oil.
In a wok, heat up 4 tbsp. of vegetable oil, add the minced shallot, ginger and garlic and fry until fragrant. Remember, in most Asian cooking garlic is fried at the end as it burns very quickly. Then add the chilli (1 part or 2 for those who likes it very spicy), tomato sauce (2 parts), salted bean (2 and half table spoons), chicken stock, salt and sugar and bring to a boil.
Add in the crab to braise for 3 to 4 minutes with the cover. Thicken the sauce with some cornstarch, cook further for 2 to 3 minutes, then linger the beaten egg over it and turn off the heat.
Your Chilli Crab is now ready!
Place it on a serving plate and top it off with the garnishes. It is usually served with steamed or fried Mantu buns, French loaf or plain rice.
Special Tips by Chef John See:
Tip 1: The crab has to be alive before cooking
Tip 2: Season to taste before adding the cornstarch
Tip 3: Always add in the cornstarch before lingering the beaten egg over the crab.
The best way to enjoy a Singapore's Chilli Crab is to go all-barbaric. Forget about etiquette, eat with your hands! Locals will lick every single part of the crab from legs to shells then soak up the gravy with some Mantu buns. Watch this video of the Chilli Crab with Chef John See and give it a go!
Where to eat the best Chili Crabs in Singapore?
Some other reputed restaurants include
Jumbo Seafood
,
No Signboard Seafood Restaurant
, Red House Seafood Restaurant, Mellben Seafood, Roland Restaurant (the family restaurant, that created the original recipe in 1956), Master Crab Seafood Restaurant, Seafood Paradise Restaurant (
Singapore Flyer
) and Tung Lok Restaurant.
You might also like: