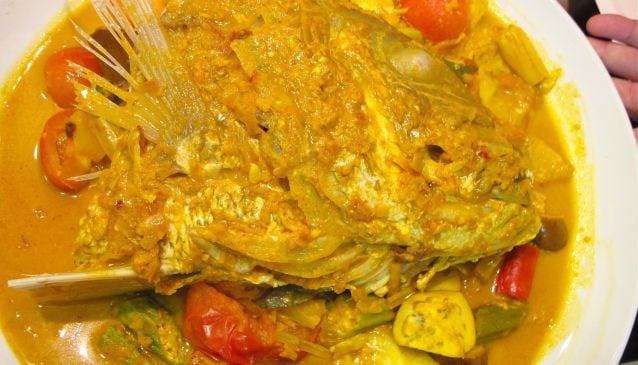 My Destination Singapore Kitchen - Fish Head Curry
Food & Drink
With My Destination Singapore Kitchen, learn to cook your favourite food of Singapore with a video!
Myriam Ohlig for My Guide Singapore
If you are looking for a mouthwatering dinner recipe to impress your 'special someone' or indeed, your guests, then look no further! With My Guide Singapore Kitchen, learn to cook your favourite food of Singapore, the easy way.
Experience the exotic herbs and spices from Asia; this blend of Chinese, Indian and Malay flavours that makes
Singapore's cuisine
so special. For My Guide Singapore Kitchen, we've teamed-up with some local chefs to offer you this easy-to-follow video series of Singapore's favourite food recipes.
We've been delighted to meet Chef John See from
The Food Dot
to launch our first edition. While being trained in classic French cuisine, Chef John See is passionate about Asian and Singaporean food and prides himself on being the third generation of chef in his family. With more than 15 years of professional experience in diverse hotels and restaurants of Singapore and countless cooking classes conducted, Chef John See is eager to share his love for
Singapore's food
and to show us how delectable it is.
For this first edition, he took us to Tekka Market in
Little India
to find the best ingredients to prepare a fabulous Fish Head Curry.
Serves 4 to 6
Preparation Time: 20 minutes
Cooking Time: 30 minutes
Equipment: 2 long-handled wok, a footed-cooling rack, 1 porcelain plate or bamboo steamer (lined with lettuce, cabbage or banana leaves to prevent the food from sticking to the bamboo), chopstick
Although the Fish Head Curry is believed to originate in India, many think it was actually created by an Indian from Singapore who later retired to Kerala, India and brought with him his recipe. Whatever the origins of this dish are, the Fish Head Curry is very popular in Singapore and can slightly vary whether it is prepared in a Malay, Indian or Chinese family. The recipe brought by Chef John See for which the fish is steamed and not cooked in the gravy, can be considered as the Chinese version.
If you live in Asia, you'll easily find all the ingredients at your local market or grocery store. Otherwise, they are generally available at any Asian grocers. While buying your fish, ask your fishmonger to cut you a nice fish head with enough meat to enjoy. In Western countries, you can also use other type of meaty fish such as parrot, red snapper, barramundi or sea bass filet.
As a rule of thumb with any Asian recipe, do have all your ingredients prepared beforehand.
1 large fish head of garoupa or red snapper (Ikan Merah), properly cleaned and scaled
1 stalk curry leaves
3 pieces of young ginger (minced)
1/2 cup peeled garlic (minced)
1/2 cup peeled shallots (minced)
3 tbsp peanut oil
3 tbsp fish curry powder
2 tbsp turmeric powder
4 small red chillies (seeded & sliced)
6 okra or ladyfinger (cut into bite size )
4 ripened tomatoes (cut into quarters)
2 cups white cabbage
2 to 3 eggplants (sliced)
200ml coconut milk
100g pineapple cut into chunks
1/4 to 1/2 cup tamarind water (mix the tamarind paste with some boiling water) or lime juice
1 large lime
Sugar and salt to taste
Method
The preparation of the fish requires you to steam the fish head, to cook the gravy then incorporate the fish into the gravy.
Fill the bottom part of a wok with some water and bring it to the boil. Place the fish on a porcelain plate or bamboo steamer over a footed-cooling rack, then cover and steam for 12 to 15 minutes depending of the size of the head. Use a chopstick to check on the fish head. Pop it into one of its thickest points. If it goes in easily, your fish head is cooked. Switch off the heat.
While the fish is being steamed, heat some oil in another wok over low heat. When your pan is hot enough, fry the shallots continuously to prevent them from sticking to the wok. Stir for about 1 minute until lightly golden brown or until there's a nice flavour that comes out. Add the garlic. Keep on stirring for about 2 minutes then add the ginger. Fry all your shallots, ginger and garlic well to obtain a sweet and fragrant mixture then mix in the turmeric powder then the fish curry powder until dry. Mix for 3 to 5 minutes at low heat to get rid of the nasty bitter taste of the curry and bring out all the sweetness and fragrance of the curry powder.
Add the lemon grass and red chili then smash the curry leaves over the mixture to exude its rich aroma. Pour in some water, cover and bring it to the boil. Let it simmer for 3 to 5 minutes. Incorporate the remaining ingredients: white cabbage, lady fingers, tomatoes, sliced eggplants, pineapple, tamarind water, the juice of a large lime and some water to cook the vegetables partially. Pour in the coconut cream and bring to simmering point, stirring it all time. Allow it to cook for a few more minutes until well amalgamated.
Place the fish into the gravy without its own juice to cut into the fishy taste. With a tablespoon, lightly pour the gravy over the fish head. Add some sugar and salt then simmer gently or until the okras are half cooked. Cover and let it boil. Turn the fish head over and continue simmering for 1 to 3 minutes until done. Taste and adjust salt to taste.
The Fish Head Curry is now ready to be shared among your guests! Transfer the fish head immediately in a serving plate over the vegetables and gravy. Serve with some rice or soft buns like locals do.
There's no better way to succeed in making a recipe than by watching a chef do it. So, watch this video of the Fish Head Curry and you'll see how easy it is.
Did you know that Singapore established a Guinness World Record because of the Fish Head Curry? In 2012, during the
Little India Food Festival
, there were no less than 2,012 meals. This was the most number of Fish Head Curries served in a single dinner!
This recipe is so rich in flavour that after eating it you will feel its delightful aromas lingering on the palate for hours. And if you're wondering why on earth you would prefer to eat the head of a fish instead of its fleshier parts, it is because Chinese believe the meat next to the bone to be the tenderest and most flavourful while the cheeks and eyes of the fish (which are excellent for your skin ladies!) are considered the best parts of all.
So what are you waiting for? Put your apron on and let's get cooking!