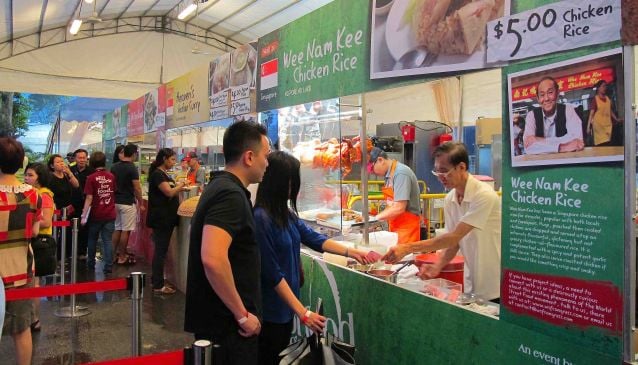 World Street Food Congress 2013
Food & Drink
There's no better way to discover the soul of a destination than through its local food
Myriam Ohlig for My Guide Singapore
For many of those wandering the world, food is an important part of their travelling experience. They are interested in new encounters and new flavours. They believe there's no better way to discover the soul of a destination than through its local food.
In many countries, especially here in Asia, street food is so deeply rooted in the local culinary traditions that it has emerged as a major tourist attraction.
This is a call for all food lovers, especially those obsessed with travel food. From the 31st of May to the 9th of June 2013, take a toothsome tour of the world's best street foods during the World Street Food Congress 2013 in Singapore.
Faithfull to its reputation of food heaven and to its most beloved hawker heritage, Singapore offers the perfect open-air setting in
Marina Bay
, to host the first edition of the World Street Food Congress 2013.
Organised by the popular local food-guide publisher Makansutra, the food congress celebrates not only the street bites from around the world but also it aims to "preserve, professionalise and create new possibilities in this most endearing food culture," said its founder K.F Seetoh.
Dialogues and Awards
Although street food has a long history in most cities, it's recently enjoyed an enthusiastic revival among locals, travelers and creative chefs around the world. From busy executives queuing for some spicy Laksa at Maxwell Food Centre, curious tourists engulfed in the smoke of a satay stall in Jakarta, to hungry passers-by craving for some hearty burrito at a Mexican food truck, comfort food served in the street is the perfect fix for people on the go. It saves time and money without cutting down on taste! Besides, with its large variety of rich flavours and unique cooking styles, street fare is also a rich source of inspiration for creative chefs and upscale restaurants, adding excitement and exoticism to their menu.
Yet, in these times of economic uncertainty and beyond the limits of a trendy phenomenon, preserving street food culture is of great importance. With half of the world's population predicted to be living in urban areas by 2020 (FA0, 2010), the amount of persons living in poverty in cities increases every day. This raises the problem of urban nutrition and sanitation. The street food industry has a great potential to address these concerns not only to feed the urban populations at affordable price but also to become a large source of employment for those less educated.
During The World Street Food Dialogue held on the 3rd and 4th June 2013, 17 world renowned street food advocates, great thinkers and stakeholders will come together to discuss the importance and the future of the street food industry. This includes: Chef Anthony Bourdain, popular host of the American Travel Channel series "No Reservations"; KC Seetoh, founder of both Makansutra and the World Street Food Congress; James Oseland, Editor-in-Chief at American Saveur Magazine; William W. Wongso, Indonesia prominent culinary expert; Johnny Chan, Top China TV host winemaker; and the respected American Street food blogger, Brett Burmeister.
Another highlight of the World Street Food Congress 2013 that will stimulate this industry is The World Street Food Awards 2013. For the first edition of the international gathering, the 10 awards will acknowledge among others, the 'World's Best Street Food City', the' World's Best street Food Writer', and the 'World's Best Street Food Master'.
The World Street Food Awards 2013: The Results
Best Street Food City: Singapore
Street Food Entrepreneur of the Year: 1. George Quek (Breadtalk Group, Singapore) ; 2. Tjandra (Eat and Eat Food Court, Indonesia).
Best Street Food Eatery Concept: 1. Eat and Eat Food Court, Indonesia; 2. Tacombi, NYC USA; 3. Quan Ngon, Vietnam.
Best Street Food Hawker Centres/ Hawker Streets:1. Yaowarat, Thailand; 2. Old Airport Road Food Centre/ East Coast Lagoon Food Centre, Singapore; 3. Ben Thanh Market, Vietnam.
Street Food Master of the Year (Top 20): 1. Soto Ayam Ambengan Pak Sadi Asli, Indonesia; 2. Wee Nam Kee, Singapore; 3. La Guerrerense, Mexico; 4. Banh Can 38, Ho Chi Minh, Vietnam; 5. JB Ah Meng, Singapore; 6. Sate Ayam Barokah Haji Basiri, Jakarta, Indonesia; 7. Donald & Lily's, Malacca, Malaysia; 8. Line Clear Nasi Kandar, Penang, Malaysia; 9. Chiang Ji Teochew Fish Porridge, Yaowarat, Thailand; 10. Lian He Ben Ji Claypot Rice, Singapore; 11. Nasi Campur Ayam Kampung Khas Bali Made Weti, Indonesia; 12. Sai Tin Hang Or Luak (Oyster Omelette), China; 13. Khun Pas, Bangkok, Thailand; 14. Hill Street Fried Kway Teow, Singapore; 15. Liverpool Restaurant, Bangkok, Thailand; 16. Rumah Makan Nasi Kapau, Indonesia; 17. EuroTrash Food Cart, United States of America; 18. India Gate Bhelpuri, India; 19. Wan Dao Tou Assam Laksa, Malaysia; 20. Nam Bo Chuoi Nuong, Vietnam.
Best Street Social Enterprise Food Association / Group: NASVI, India; La Cocina, San Francisco, USA; Dignity Kitchen, Singapore.
Street Food Blogger / Writer: Michael R Aquino, of About.com.
Best Street Food Café: 1. Immigrants Gastrobar, Singapore; 2. Issaya Siamese Club, Thailand; 3. Lion City Restaurant, Vietnam.
No winners for 2013 in the following categories: Best Street Food Guide / Magazine; Street Food Product Manufacturer of the Year.
Urban Food Safari
Now let's celebrate, under the amused gaze of
Singapore Flyer
, the mouth-watering street kitchen from our big wide world!
At The World Street Food Jamboree, you'll enjoy some traditional street dishes as well as the imported alternatives. Amaze your taste buds with some authentic fare from 10 countries: Singapore, Malaysia, Indonesia, Vietnam, Thailand, China, India, Denmark, USA and Mexico. With 37 stalls and 40 dishes to choose from, there's plenty to satisfy any penchant and appetite.
For those new to the region, you ought to start with some of Singapore's all-time favourites. Then dare to venture eating even spicier foods! It will unfold a whole new universe of South Asian victuals that can turn you into a hardcore advocate. But if you can't take the spicy hot sensation, eating bread or rice is a good relief instead of drinking liquids. Though, I personally find a good cold beer a great remedy to soothe any scorching palate. It goes without saying that those visitors suffering from any gastrointestinal disease, should stay away from spicy foods and rather go for some Vietnamese, Chinese or Western fare, which are generally gentler on the stomach.
At the World Street Food Jamboree, why not tickle your palate with some unusual edibles from Denmark and the Americas? There's a rich selection of Mexican antojitos and American decadent fares such as the sweet and sour Crispy Fish Taco, the scrumptious Porchetta Sandwich and the melting Smothered Chicken.
With your one-day pass coupon at S$28 you're entitled to S$20 value of food, two exciting masterclasses at 'The Studio' while enjoying some live music performances.
Most of the dishes range between S$8 and S$11 with only a few at S$4, which may seem expensive for street food standards but keep in mind that in a country where the agriculture is nonexistent, obtaining high quality produce has a price. And everyone knows how much the quality of the ingredients used is critical to recreate the precious street food eats.
You'll love the relaxed informal atmosphere at The World Street Food Congress: the large alfresco setting, yet intimate enough to easily meet and mingle with the finger-licking foods and their warmhearted creators. They will be so happy to tell you all about their specialties so don't hesitate to approach them. And, if you wish to have more insight about the street food industry, join the 2- day dialogues for which tickets are available between S$180 (students) and S$750.
Hopefully, this excellent initiative will contribute to galvanise the industry and inspire the young generations to "work for food...culture".
Watch this video of the World Street Food Congress 2013 then "you join us for makan?"
Venue:
The F1 Pit Building and Paddock at 1 Republic Boulevard. Promenade MRT station. Parking available opposite the venue at
Singapore Flyer
's carpark.
Dates and Opening Hours:
From 5pm to 10pm on 31/05/2013 and from 11am to 10pm between 1/06/2013 and 9/06/2013.
Masterclasses held daily at 2pm and 3.45pm except on 31/05/2013.
The World Street Food Dialogues held on 3rd and 4th of June 2013.
Admission Tickets:
The World Street Food Dialogues: 2- day dialogues From S$180 (students) to S$750.
The World Street Food Jamboree: One-day Jamboree Pass Pack: S$28. Between Mon-Fri, Students get S$10 discount. For S$18 they can still enjoy S$20 of food coupons while Senior citizens get free entry!