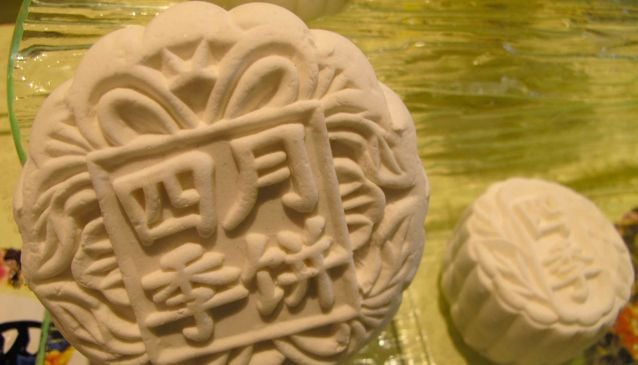 Mooncakes are All Over Singapore
Food & Drink
The choices are really endless and will leave you maybe confused but certainly craving for more
Monika Khaled for My Guide Singapore
When travelling to Singapore during the months of August and September, visitors will be confronted with colourful and delicately crafted pastries all over the island. Sold at stalls in hotels' lobbies, restaurants and cafés, these sweet and tasty Mooncakes are a sure indicator that the Mid-Autumn Festival is in full preparation.
What are Mooncakes?
A Mooncake is a Chinese pastry or cake, traditionally eaten during the Mid-Autumn Festival. They are a very popular delicacy and come in many different colours and flavours while some features such as the size and shape are usually consistent. The imprints on top can show Chinese characters to represent harmony or prosperity while others show flowers or a rabbit, the Chinese symbol for moon.

If you would like to buy some of these precious delicacies, a typical Mooncake is round and comes in an elegant box of 2, 4, 6, 8 or 12. It is custom for businesses, friends and relatives to offer Mooncake Gift Boxes to show gratitude and respect.

Cut into small wedges for better sharing as their energy count usually goes well beyond the 1,000 calories, they are served with tea or coffee.
What's in a Mooncake?
The traditional Mooncake is made from a sweet red bean or lotus seed paste with one or two salted duck or chicken egg yolks in the centre and a thin, baked crust. The yolk is a symbol for the full moon.

Over the past years however, Singapore's hotels, restaurants and cafés launched into a fierce competition to come up with the most beautiful colour theme, flavour combinations and elaborate packaging. The results are carefully crafted Mooncakes that look like little pieces of art while bursting into exotic tastes, melting in your mouth.

Indulge in Chocolate Salted Caramel Glaze Banana and Walnuts.
Taste Pandan Coconut Truffle Divine.
Explore Water Chestnut with Corn and Attap Chee.
Be western with Italian Roast Coffee Paste with Vanilla Bean Custard.
Or go elegant with Calamansi, Kumquat and Sour Plum Snowskin Mooncakes.

The choices are really endless and will leave you maybe confused but certainly craving for more.
What is the Mid-Autumn Festival?
The colourful and vibrant Mid-Autumn Festival, considered as one of the most important Chinese festivals, is celebrated yearly during the 8th lunar month, bringing Chinese families together to celebrate their version of "Thanksgiving".

For the best experience, visit Chinatown and immerse yourself into the pulsating streets, light up with thousands of lanterns. For a more local experience, together with games, performances, rides for little kids and a complete firework, head to the Chinese Garden in Jurong.


For dates and facts check out the event listing.