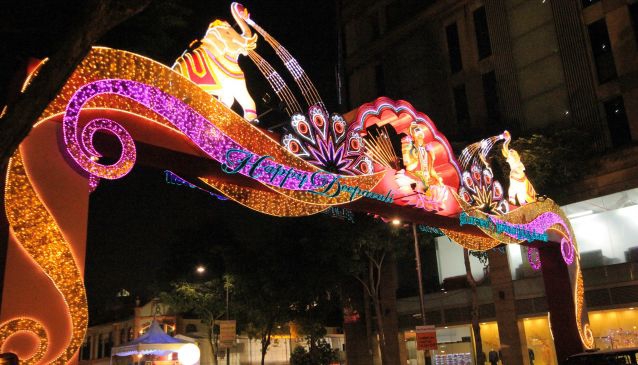 Deepavali: The Festival of Lights
Arts & Culture
the festival of lights certainly lives up to its name filling the streets with dazzling decorations
Monika Khaled for My Guide Singapore
When Indians celebrate, the streets of Little India burst with bright colours, busy stalls, tasty foods and wonderful traditions. Deepavali, also known as the festival of lights, certainly lives up to its name, filling Singapore's Little India district with dazzling street decorations and fireworks. Indians look forward to this annual event with excitement and joy.
Diwali or Deepavali is one of the most important religious festivals for Hindus and an important part of Singapore's rich history and culture. The event traces back to Ancient India and several legends are told about the origins, depending on the region.
Some believe the event celebrates the return of Lord Rama, his wife Sita and brother Lakshmana after a 14-year exile. Legend has it that Lord Rama was deprived of his rightful ascent to the throne and banished to the forests by his stepmother so that her own son could rule. Others say that Deepavali takes place to commemorate Lord Krishna's victory over the demon king Narakasura. With his victory, the good defeats the evil, the light wins over the dark. This is what people celebrate during Deepavali, the festival of lights.
There are many details to the story and Hindus have devoted many days to celebrate Deepavali, each to honour a different happening as part of the entire story. Deepavali is so important that it is observed as a public holiday in many countries including Singapore.
Several rituals are part of the festival: Families in South India wake up at dawn to take an oil bath. They then dress in traditional and richly coloured clothes and head to the temple for prayers. Many homes light small, oil filled clay lamps and decorate their doors with fresh mango leaves and kolam, colourful drawings on the floor at the entrance also known as rangoli, which are meant to welcome the goddess of power, wealth and knowledge Lakshmi.
Celebrate with the Indian community, marvel at the colourful decorations and try some of the popular sweetmeat dishes such as deep fried batter in syrup, green mung bean sweets, rice flour pancakes and lentil cake. Several stalls offer flower garlands, glittery costume jewellery, Saris in abundance and charming nick-nacks. Watch local artists painting intricate flower patterns on the feet and hands of Indian women using henna, a plant based dye.
Held from the 12th of September to the 2nd of November 2014, Deepavali 2014 in Singapore promises to be one to remember as this year's theme is The Goddess of Furtune, Mahalakshmi.
At the entrance of Serangoon Road and outside the Sri Srinivasa Perumal Temple are 2 large and impressive arches standing over 10m and covering a massive 25m across each side. With a total of 65 street set pieces, the decoration in Little India is stunning.
Here is a listing of the top 10 things to do and see:
Wander along the main streets and be amazed by the street light-up stretching from part of Selegie Road through Serangoon Road, until Lavendar Road and Race Course Road. Admire the main arch at the entrance of Serangoon Road.
Visit the Festival Village on Hastings Road and Campbell Lane covering 15,000 square feet with a huge array of stalls selling traditional goodies, colorful apparels, sweet and tasty delicacies and of course, many items to decorate your house in Deepavali style.
Check out the Heritage and Craft Exhibition on Campbell where skilled craftsman will demonstrate the art of Indian pottery making. You can even join in and learn it too.
Another fun experience this year is something you won't see anywhere else. The special element this year will feature parrot astrology, a heritage trade which has disappeared from Little India.
Join in the Scratch & Win Competition held from 12 to 22 September 2014 @ Festival Village and stand to win gold and silver coins.
The Navarathri Festival is celebrated over 9 days from 25 September to 4 October to honour the Mother Goddess Lakshmi, representing power, wealth and knowledge through various displays along Race Course Road with special cultural celebrations each evening.
Visit the amazing and colorful Indian Temples along Serangoon Road: Sri Veeramakaliamman Temple, Sri Srinivasa Perumal Temple and Sri Vadapathirakaliamman Temple. Each temple is specifically decorated for Deepavali and will have their own Navarathiri celebrations.
At the Fire Walking Festival, held on the 12th October 2014 from 6.30pm onwards, devotees walk on hot coals to prove their purity. The evening starts with a procession from Sri Srinivasa Perumal Temple and will arrive at about 6pm at Sri Mariamman Temple where the Fire Walking takes place.
The Silver Chariot Procession is held for devotees to give offerings and for Deepavali 2014 the date to mark is 13th October at 8pm. the exquisite Silver Chariot bearing the Goddess Draupadai starts its way from Sri Mariamman Temple along South Bridge Road to reach Little India, bringing blessings.
For more information you can visit the website of LISHA. Please note that the bazaars are open daily from 10am to 11pm and performances, such as dances, take place during the evening. We recommend visiting the bazaars on a late afternoon and then staying until late evening to fully enjoy the lights and atmosphere.
There are many Indian restaurants along Race Course Road where you can enjoy a delicious meal with friends and family to mark your visit to the Deepavali 2014 festivities.
Watch our video to get an idea about the festive bazaar:
A few tips from our local experts
If you plan to attend the Switch- On Ceremony, arrive at last around 6pm and don't do your shopping before as there will have increased security check due to Singapore Prime Minister presence.
Take public transport such as the

MRT

. Traffic is usually heavy in this area during the celebrations and parking space is rare. You might also encounter difficulties catching a

taxi

back as they avoid the congested area. During these days you might experience more traffic on the entire island as Indians visit their families and friends.
Be considerate when entering one of

the many beautiful Hindu temples of Singapore

and take off your shoes. Visitors are required to cover their shoulders and legs up to the knees. In public spaces such as the bazaars, markets and on the streets, however, casual clothes are acceptable.
Do you want to participate to the Amazing Race? Contact them: events@lisha.org.sg, +65 6392 2246
How to get to Little India
Parking: The Verge, Tekra Centre, BLK671 multi-storey car park
MRT: North-East line, exit Little India or Farrer Park
Buses that serve Serangoon Road, Tekka Centre: 23, 64, 65, 66, 131, 139, 147
Happy Deepavali 2014!