Soothing Stopover for the Smart Traveler
Family Fun
You'll spontaneously slow down and bask in tranquility...
Myriam Ohlig for My Guide Singapore
When it comes to air travel, whether for
business
or vacation we all know how stressful it can be: traffic jam to the airport, endless check-in and security lines, late departure, unfriendly staff, jetlag, cancellation - the list goes on.
This is especially true when you have to transit through an airport. Although, it's usually cheaper and often necessary, especially if you go for a long distance flight, it's also a significant cause of air travel stress. Not only do you take more time to reach your final destination but also, the chances of loosing your luggage and missing your next flight are higher. Yet, you can still save yourself a considerable amount of stress and time if you plan your transit itinerary wisely.
Have you heard of the welcoming airports that really make a special effort to ease your forced layover? Well, Singapore Changi Airport is one of them. The world's most awarded airport has been voted by Skytrax in 2013 not only one of the World's Best International Transit Airports but first and foremost the World's Best International Airport. With its smooth transit procedure, its relaxing atmosphere and facilities and its enjoyable entertainment galore, Changi Airport is just a dream-come-true for the frequent traveler, a wonderful oasis of peace where you can relax and recharge while being in transit.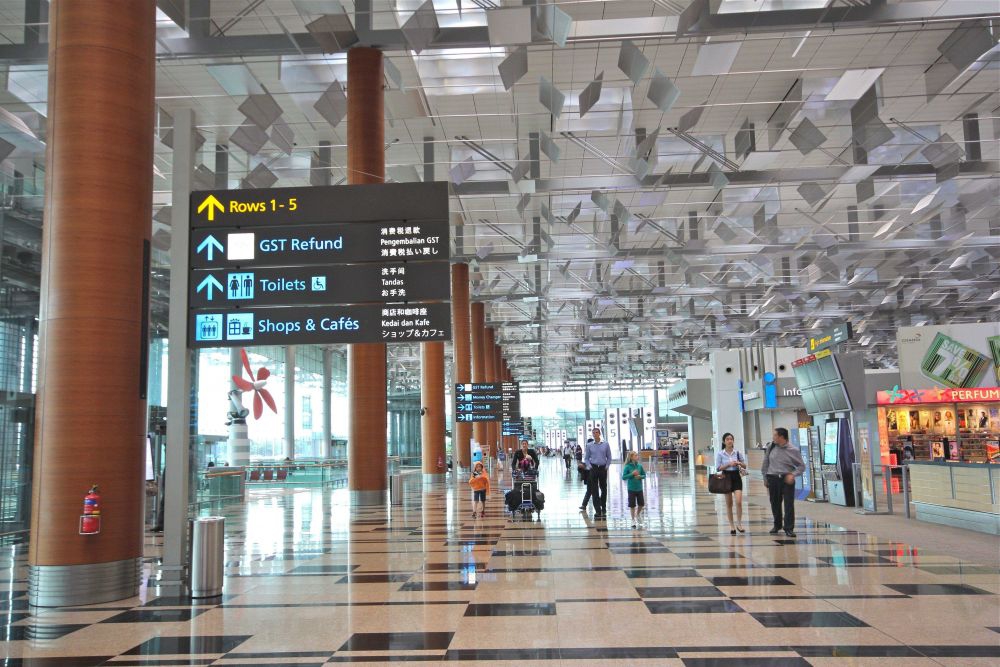 Sound and Smooth Transit System
Flight cancellations, natural disasters, early morning flights, long layovers which require you to change plane or disembark for a refuelling stop - these are just a few reasons why you often find yourself stuck in transit for a couple of hours. 
In Singapore, forget about all the stress usually experienced in an airport. If you have a connecting flight at Singapore Changi Airport, you'll be amazed to see how the reputed painful process of immigration clearance, security screening, baggage claim and reaching your next flight on time, becomes just a formality.
If you change planes from a full service carrier to another, you just need to collect your boarding pass - if you don't already have it - at the Transfer counter in the terminal of your connecting flight. Then reach your departure gate at least 30 minutes before the departure time and get your luggage checked. Instead of having a security screening system centralised at the Departure Check-in Hall, which generates lengthy queues, at Changi Airport each gate is equipped with its own security point ensuring a fast inspection of your hand luggage.
If you travel with a budget airline, you must clear immigration, claim your luggage and check it again. This is where you'll appreciate the efficiency of the Singaporean system. Here, you don't need to be a local resident or a frequent visitor card holder to enjoy a fast entry. Provided you satisfy the requirements to enter Singapore, you'll spend usually about five minutes to clear immigration. This is common practice for all and you'll even get a sweet as a treat at the immigration counter!
At the baggage claim area? Let's say 10 to 20 minutes, rain or shine and with plenty of trolley luggage available.
Having trouble finding your gate? You'll always find a courteous airport staff to show you the way. Then go terminal hopping with the reliable Skytrain or travellators and be sure to catch your next plane on time.
A hint for the budget airline fans: If you transfer to and from the budget airlines Tigerair and Scoot, apply to the
Changi Connects programme
. For no more than SGD20 you can skip on the hassle of clearing arrival immigration, retrieving your luggage and even getting a visa to enter Singapore. This means, more time to relax and enjoy all the entertainment the transit area has to offer.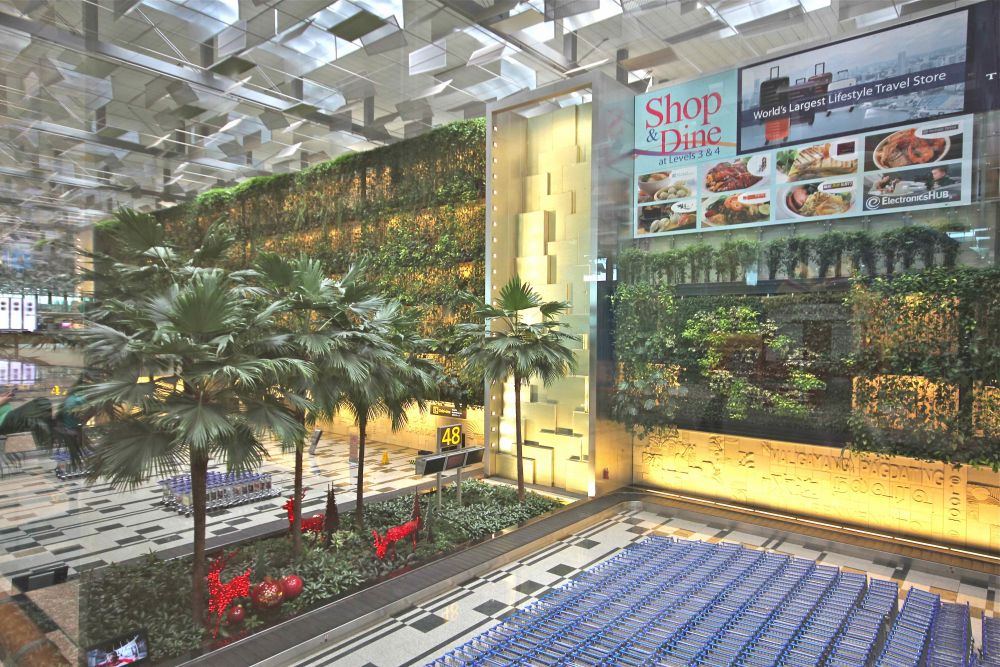 An Oasis of Peace and Tranquility
Now that all the practical details of transferring at the airport have been clarified, it's time to unwind before your next flight.
As you make your way through the airport, besides the usual sight of shops and eateries lining the aisles, make sure to pause for a while at the many ravishing gardens: Enchanted Garden (T2), Orchid Garden (T2), Butterfly Garden (T3) and two outdoor ones, the Cactus Garden (T1) and Sunflower Garden (T2), where you can soak up the sun and enjoy some fresh air while gazing at the aircrafts taking off. 
After a long-haul flight, you may feel your feet all swollen. Grab a free massage chair along the way or pamper yourself with some foot reflexology to stimulate the blood flow and reduce the swelling. Let yourself go for a moment with a quick shut-eye at the many comfy seats widely available throughout the airport or get a quality nap at the free rest areas. You'll find there the famous snooze chairs that have made Changi Airport 2013 SleepingInAirports 'Best Airport' for the 17th year in a row. In this spacious interior beautified with cutting edge art installations, natural light, lush greenery and floral display means you'll spontaneously slow down and bask in tranquility.
Aside from the traditional airline lounges, Singapore Changi Airport also features some comfortable transit lounges and transit hotels with convenient facilities you don't want to miss, such as showers, gym, jacuzzi and a rooftop swimming pool* that you can enjoy on a pay-per-use basis if you're not a guest at the hotel. And for utmost relaxation, indulge in a classy massage at the Ultimate Transit Haven to feel completely refreshed and rejuvenated.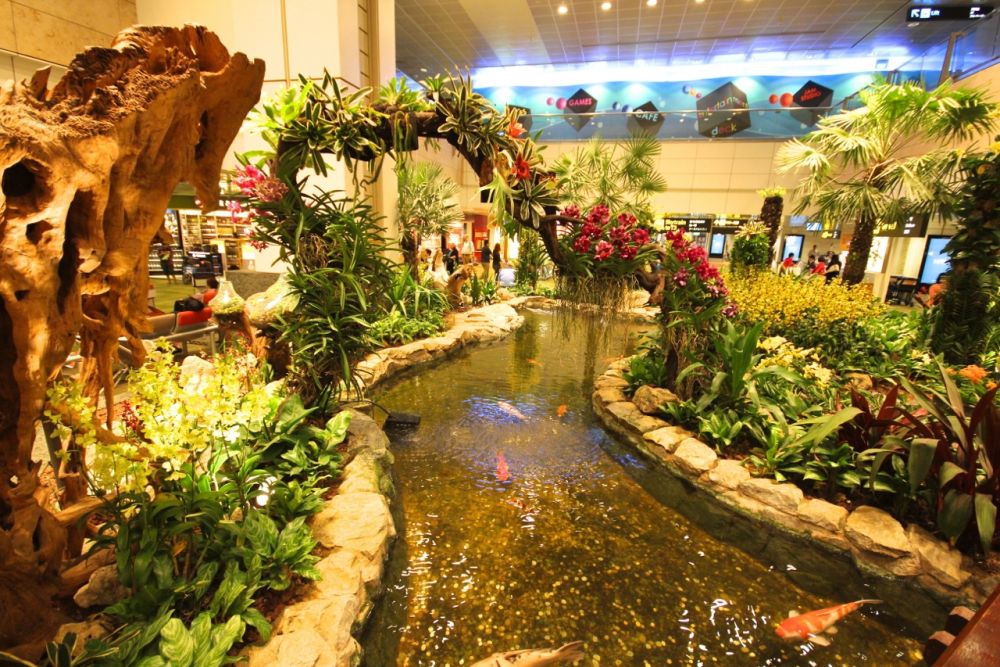 Entertainment Galore for the Whole Family
In most airports you would have waited restlessly, wandering and wondering how you could possibly kill time. But here in Singapore, Changi Airport spoils you with a plethora of facilities and activities. With its free 856 charging points to keep your electronic device going, its 550 internet kiosks, free WIFI networks (#WIFI@changi in the transit area and Wireless@Sg elsewhere) and 24-hour fully equipped business centres, you'll stay in touch at all time with your friends, colleagues and customers. Voted 2013 World's Best Airport for Leisure Amenities by Skytrax, Changi Airport is a fantastic
attraction
in its own right. Some key activities include: 
Indoor playgrounds to get your children busy (Terminal 1, 2, 3)
Changi Aviation Gallery (Terminal 3)
Free 24- hour movie theatres with your favourite blockbusters (Terminal 2, 3)
Free access to Kinetic sport, Lan gaming and consoles such as Xbox 360 and PlayStation3 at the Entertainment Deck (Terminal 2)
The Social Tree (Terminal 1) is a recent interactive feature, which allows you to share your photos and videos or store them at Changi Airport for up to 100 years and retrieve them on your next visit for lasting memories.
Slide @ T3, the world's tallest slide in an airport (Terminal 3) for a bit of thrill.
If you have at least five hours transit, you can register for a free two hours Singapore Tour. This is an opportunity for sightseeing and photo taking: Merlion Park, Singapore Flyer, Gardens by the Bay, Marina Bay Sands, Little India, Chinatown, Raffles Hotel, The Esplanade - Theatres on the Bay, Colonial District, The Central Business District, Bugis Village are some of the beautiful sights and highlights of Singapore.
With 350 retail outlets and services with many offering tax free and duty free products, shopping is a must! You can even order your items on ishopChangi before your arrival to Changi Airport and retrieve them while in transit.
Not to mention the 120 food and beverage outlets. You'll find here all type of cuisine from Singapore's local favourites and Asian delights to international and quick bite chains with not less than 40 eateries open 24 hours a day.
If you transit in Singapore Changi Airport, not only you'll cherish the efficiency of the system but you can also be sure that your stopover will be smooth and enjoyable. You'll never run out of
things to do
. From shopping and restaurants to relaxation and
entertainment
, you'll surely find something to satisfy every taste of your loved ones. Watch this video of Changi Airport to see how slick this airport is. And if you want to venture any further and explore Singapore in one day, then read our travel article '
24 Hours in Singapore
' and we'll show you the way. So next time you plan your journey in the region just make sure you make a stop in Singapore and have enough time to enjoy all the exciting amusement.
Did you know?
All the plants found in Changi Airport are natural and nurtured by the airport's in-house horticulture team. This team is also responsible for the fabulous floral displays changing the all year around according to Singapore's major festivals: Chinese New Year, Hari Raya, National Day, Deepavali and Christmas.

Changi Airport is getting bigger and better: In the next decade two terminals T4 (in 2017) and T5 (in 2020) as well as a third runway (in 2020). And more entertainment to come in 2018 with the Project Jewel, a mixed-use complex that will link the three terminals and also feature some

retail

offerings and leisure

attractions

.
For more information about Changi Airport, read our dedicated page Airport information in our Useful Info section and www.changiairport.com.
*Please take note that the swimming pool is currently undergoing some upgrading works until the 28th of February 2014.