Blue Christmas on Orchard Road
Family Fun
One of the most enchanting and anticipated Christmas light-ups in Asia...
Myriam Ohlig for My Guide Singapore
This very special time of the year, when many celebrate the birth of Jesus Christ, brings to Singapore one of the most enchanting and anticipated Christmas light-ups of Asia!
For 30 years, Christmas street lights and decorations on
Orchard Road
, have been the highlight for many Singaporeans and visitors. Regardless of their
faith and ethnic group
, each year they all draw together at night for a leisurely walk with their families and friends. From
Tanglin Mall
to
Orchard Central
, they amble the 2.2 km-stretch of avenue, gazing in wonder at the fabulous yuletide lights and beautifully decorated
shopping malls
.
'Tis season, feel the magic of Christmas in the tropics. We take you for a night stroll on Singapore's infamous
shopping
belt, "The most beautiful avenue of the world"*:
Orchard Road
!
*according to the International Presence Survey 2012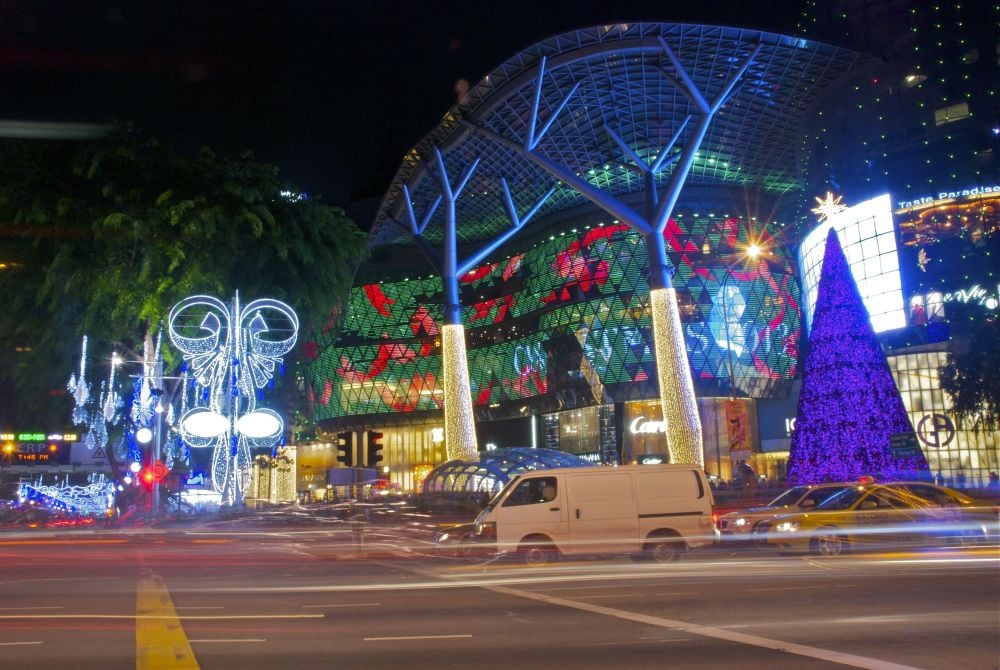 Christmas on A Great Street
Ranked one of the "Top 10 Christmas Markets of the World" by Lonely Planet, Singapore is the only country in Asia, whose Christmas decorations are regularly compared to countries like France, Germany and Switzerland.
All the credit goes to the energetic Orchard Road Business Association, which organises each year in collaboration with the electronic firm Hitachi, the Christmas light-up on the "Great Street".
This year the traditional Christmas street lines of green, red and gold have given way to some scintillating hues of white and blue. Unlike the sad song of Elvis Presley, which inspires solitude and melancholy, this year's blue Christmas on
Orchard Road
soothes the soul and enlivens the spirit.
This splendid scene of glimmering diamonds and blue sapphire gems unfolds before you. Stretching across the width of
Orchard Road
and unrolling out of sight, there lays hundreds of precious jewels hanging and sparkling like a shower of falling stars.
This ravishing backdrop designed by Rich-Art Enterprises and held between the 23rd of November 2013 and the 5th of January 2014, is the perfect setting to keep shoppers and travelers in the holiday spirit.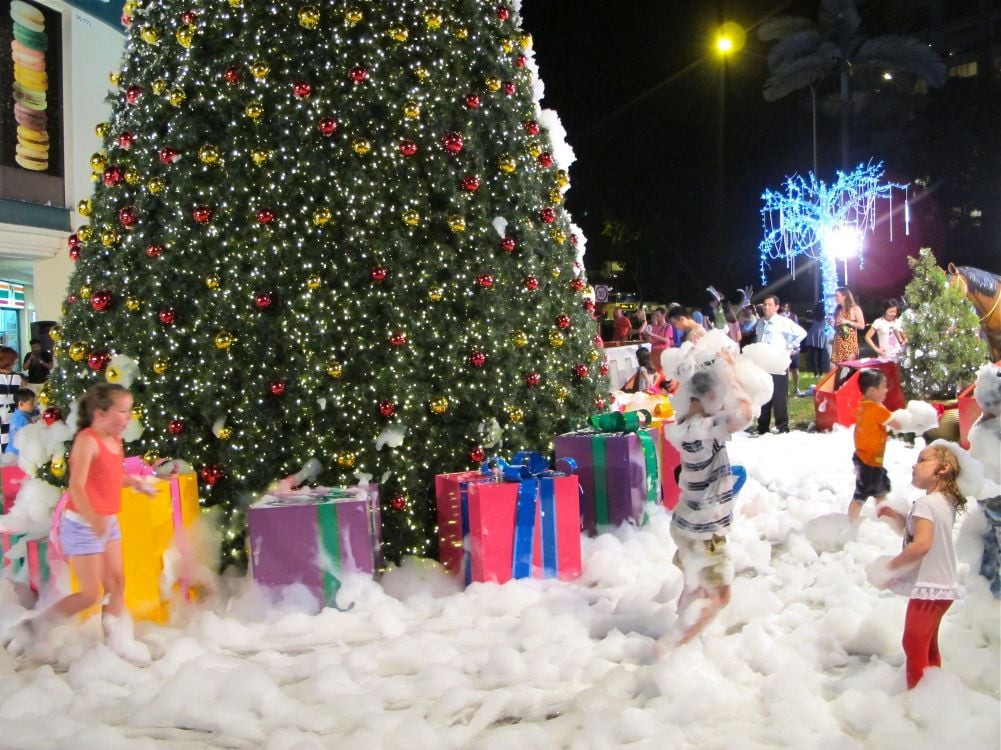 Magnificent Shopping Malls
This is the place to bring your kids for some fun and messy amusement in the "snow". Everyday until the 1st January 2014 (weather permitting) your little ones can run and romp outside in the snow-like-foam around the Grand Christmas tree. We've seen Santa's reindeers grazing freely at the crossroad of Tanglin Road and Grange Road. It seems that this year he has given his faithful companions some days off. He put down his sleigh for a majestic red and gold carriage pulled by four white horses.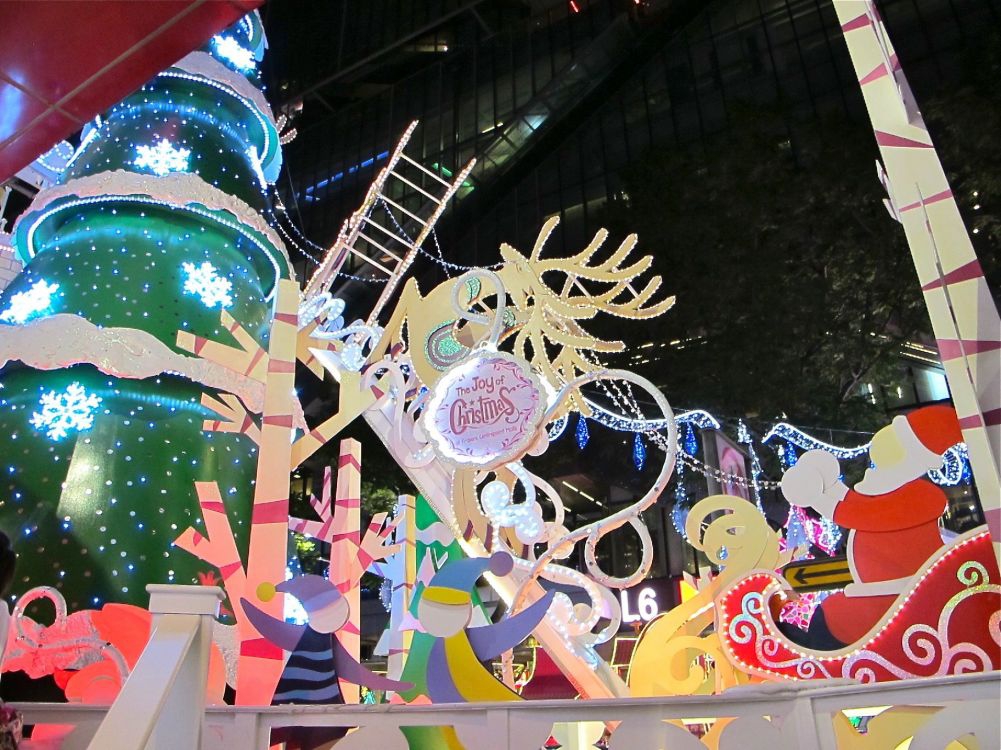 The glamorous entrance of TANGS @ Tang Plaza is a true delight for the eyes. A mannequin wearing a magnificent dress of white, gold and blue jewels stands tall like a tree papering the ceiling entirely with her headdress of peacock feathers.
At
Paragon
, with its 12m-tall Christmas tree adorned with golden trumpet-playing fairies, a ravishing vista awaits you. Opposite,
Ngee Ann City
boasts every year an immense Christmas tree embellished this time by the American jeweler Tiffany & Co. Located inside at the first floor atrium near the information counter, this is always a popular draw.
Further down the avenue,
Grand Park Orchard
and
Mandarin Gallery
ties up with the overall white and blue colours of this Christmas light-up with a more or less modern take on the tradition. While the last stretch of Orchard Road displays a profusion of brightly coloured ornaments.
Orchard Central
has once again been a hit with its OC Christmas Town Square. You'll find some lovely photo spots made out of pink and green tones and mosaic cutouts such as the door step of a fantasy home, a giant pink tap, or a British mailbox taking a bow. The last decoration not to be missed on
Orchard Road
is
The Centrepoint
's Wintery Wonderland. We've spotted Santa Claus back on his sleigh flying above a marvelous kingdom with imaginary features and simulated falling snow.
But who won the Best Dressed Building Contest 2013?
This year with its OC Christmas Town Square, Orchard Central has conquered once again the audience's heart! This is the 3rd consecutive year!
Orchard Central 
Paragon 
Tanglin Mall
The Centrepoint
Mark your calendars!
Immerse yourself in the merriment with bountiful performances, activities and other
events
.
Mastercard Holders: Each week From 23rd November 2013 to 5th January 2014, redeem a S$10 voucher for every $S200 purchase with your Mastercard. You may also win a complimentary limo ride (BMW) home when you shop at 313@somerset (On 21st of December) or Paragon (on 20th, 22nd and 23rd of December).Conditions apply.
Catch a Christmas star at 313@somerset with games, promotions and caroling from 20th to 24th December.
The snow is also falling at The Centrepoint's main entrance every night for 15 minutes every hour from 6pm - 10pm. 
Celebrate Christmas in Singapore with all your favourite Christmas carols featuring choirs, bands and other artists from Singapore and abroad. Don't miss their Grand Christmas Concert happening on 25 December 2013 from 7.30pm.
Road Closure: Orchard Road between Scotts Road and Bideford Road will be closed to all vehicles from the 25th at 1pm to the 26th December at 1am.
With so much to see and to do on
Orchard Road
you can be sure to enjoy your festive break to the fullest. Read 
Christmas 2012 in Singapore
 and watch this video of Christmas 2013 on Orchard Road and see how beautiful a Christmas in Singapore can be.