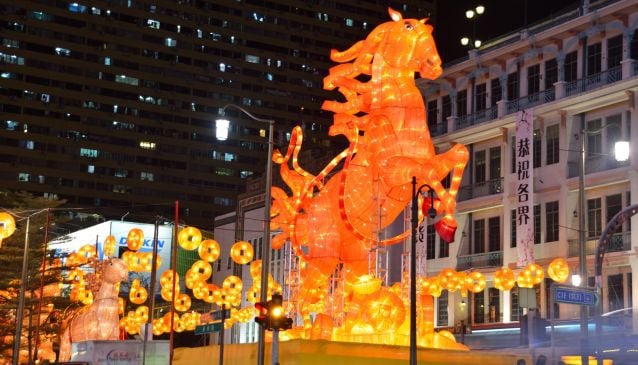 A Prosperous Year of the Horse
Family Fun
Chinese New Year is a host of traditions, feast and fest...
Myriam Ohlig for My Guide Singapore
After some joyful
Christmas
and dazzling
New Year
's Eve celebrations, Singapore drops swiftly the glitter and the strass to put on her tight-fitting cheongsam dress. In the blink of an eye,
shopping malls
,
hotels
,
attractions
and particularly
Chinatown
show off their pink, red and gold festive attire as Chinese New Year is approaching at a gallop.
Also known as Lunar New Year or Spring Festival, this is the most important festival for the Chinese community. It celebrates the beginning of the Chinese calendar and this time, the year of the Horse. Most of the
events
will be held from the 10th of January until the 28th of February 2014, when the
weather
in Singapore is pleasantly cool and windy. So if you choose to plan your vacation during this period, here are a few tips and insights from your local experts to shed light on this splendid festival and keep you out and about throughout your stay.
The Tradition
With a majority of
Chinese descents
and a dynamic organising committee, the festivities and traditions around Lunar New Year are very much kept alive in Singapore. The legend behind the Chinese New Year festival dates back to the time when the beast Nian, would come on the first day of each New Year to eat livestock, crops and children. The villagers would put food in front of their doors for protection until the day, they noticed that the Nian was scared away by a little child wearing red. Hence, they would hang red lanterns and put couplets written on red paper up on their gate, which are some of the numerous traditions observed until now.
In Singapore, the weeks leading up to Chinese New Year see many locals getting busy preparing and shopping for the celebrations.
Are you looking for some enlivening cultural experience? Then check our selection of the
6 most auspicious things to do during Chinese New Year
. It's all about attracting good luck and good fortune for the coming year whether with some seasonal decorative items such as Chinese knots, golden coins, red envelops and lucky bamboos or some auspicious food. They all have a special meaning.
The Feast
The tradition also wants the whole extended family to gather and usher in the Lunar New Year together.
On the eve of this special day, family members from near and abroad come back home for the most important reunion dinner of the year. They can't wait for this special moment when amidst friendly chats, roaring laughter and endless best wishes, they all dig into a fabulous Chinese New Year feast.
Among the prodigious choice of tasty food eaten during this festival, whether with your family, your friends or colleagues, here's a selection of the 10 most popular delicacies and treats you should try in Singapore during Chinese New Year:
Yu Sheng: A refreshing salad made of raw fish and shredded vegetables topped with a variety of condiments and sauces. All gather around a table to toss the beautifully arranged ingredients high into the air with their chopsticks while shouting auspicious wishes. The higher you toss, the more prosperity you can expect. This tradition typically Singaporean was introduced by four local master chefs in the early 60s. Tham Yew Kai, Lau Yoke Pin, Sing Leong and Hooi Kok Wai became so popular with this recipe that they became known as the "Four Heavenly Kings" in the Chinese culinary world. Although Yu Sheng can be offered in several variations, you'll find the original version at the Lai Wah Restaurant on Bendemeer Road (Boon Keng MRT station), which was the world's 1st restaurant to serve Chinese New Year Yu-Sheng in 1964.
Nian Gao: A sticky rice pudding cake that represents self-improvement and good luck. It has the property of increasing prosperity every year and its round shape symbolises family reunion.
Pineapple Tart: The delicious tart or roll is made of pastry and pineapple jam. Pineapple is meant to bring wealth, luck, excellent fortune. While visiting a home, by eating some of the addictive treat you'll bring good luck and prosperity to your host.
Bak Kwa: This popular snack is a flat and thin sheet of pork meat, marinated with sugar and salt then barbequed for a smoky flavour. It is believed to bring you a long fortune ahead. Easily found throughout Chinatown, Bee Cheng Hiang, Lim Chee Guan and Fragrance stores on New Bridge Road are some of our favourites (Chinatown MRT station Exit A).
Pen Cai or Fortune Treasure Pot: This fortune pot can feature vegetables, meat such as beef, pork, duck and chicken and some precious seafood ingredients including abalone, prawn, dried scallop, fish maw, sea cucumber, dried oyster, black moss seaweed and flower mushroom, all braised to perfection in some succulent stock. It is sure to bring wealth, abundance, unity and happiness to those who share it. Available in most Chinese restaurants and most hotels of the city with a Chinese restaurant.
Mandarin: They are typically considered as symbols of prosperity and good luck and visitors often exchange a pair of them each time they enter a house. If you choose them with the leaves on, they will bring longevity! Yet make sure you don't put them in fours as it is representative of death.
Kueh Kapit or Love Letters: Made from baking sugar, eggs and coconut milk, they can be prepared folded into fan-like shape or rolled up and stored in tins. As the name suggests it, love letters were lovers' favourite mean of communication in the olden days.
Tray of Togetherness: Given as a gift or offered as snacks, the Tray of Togetherness is made of 8 compartments, filled with dried fruits and seeds such as preserved kumquats for prosperity, coconut for togetherness, longans to bring many sons, and red melon seeds for happiness.
Prawn Rolls: The small deep fried spring rolls wrappers are filled up with some hebi hiam, a salty mixture of dried shrimp paste and ground sambal chilli. Eaten as snacks, they represent happiness, good fortune and wealth.
Whole Fish: During Chinese New Year, it's not time for a Fish Head Curry! The fish is served whole from head to tail to wish for an abundant and lucky year ahead from start to end.
Truly, there's nothing like a cheerful family dinner during Chinese New Year to boost your morale and get ready for the coming year.
The Fest
Chinese New Year in Singapore just wouldn't be the same without its exciting series of
events
and enchanting street decorations. Needless to say that the best place to experience all the excitement is the charming
Chinatown
. The ethnical enclave is a must to visit throughout the entire year, yet around Chinese New Year it has a particularly effervescent atmosphere dominated by red and gold hues that is sure to entice you. Hundreds of stalls selling all sort of decorative items ranging from lampions and door blessings to good fortune paper cuts and fake coins are sold at every corner. This is also the place to taste and buy all the popular festive treats mentioned above.
To complete the festive mood, thousands of lanterns light up the colourful Pagoda Street, Temple Street and Sago Street. Not to mention the fantastic display on New Bridge Road, Eu Tong Sen Road and South Bridge Road, which keep ravishing all visitors year after year.
This time, tying in with the Year of the Horse and the theme of "Galloping to Prosperity", the 19 students of Singapore University of Technology and Design (SUTD) who created the installation, drew inspiration from the Chinese idiom which literally translates to 10,000 galloping horses.
Gaze at the magnificent herd of 88 flamboyant life-size horse-shape lanterns galloping, along the divider between New Bridge Road and Eu Tong Sen Street. Amidst some 2,000 'floating' gold coin lanterns, the fiery horses which symbolise Intelligence, speed, strength and ambition in the Chinese Zodiac, can be seen hurdling above Garden Bridge while following a massive 10-meter-tall golden horse ready to usher the new year and leap to prosperity. That's not all! Head down towards the parallel street of South Bridge Road and be awed by another fantastic herd of 88 medium-size horse-shape lanterns, racing down the road above the serene
Sri Mariamman Temple
and the
Green Mosque
.
Watch the video of Chinese New Year 2014 in Singapore: the festive Bazaar, the Opening Ceremony and the stunning street light-up of Chinatown.
Mark your calendars:
Here are some of the best events related to Chinese New Year that you shouldn't miss.
With so much to see and do in Singapore during Chinese New Year, we hope you enjoy this splendid festival to the fullest and may the positive attributes of the Wooden Horse bring you good health and wealth!
Gong Xi Fa Cai to you and your loved ones!