Seeing in 2013 in Style
Seasonal Celebrations
As the year draws to a close, it's time to celebrate our achievements and usher in the New Year.
Myriam Ohlig for My Guide Singapore
What's your perfect New Year's Eve? Do you like the electric atmosphere of a major city? Do you swear by some fine dining feast to mark the occasion? Or do you prefer the easy, beachy vibe of a NYE party? Singapore has it all and much more!
Each year the City-Island welcomes hundreds of thousands of revelers from near and afar to ring in the New Year in style. Here are our top 5 places in Singapore to ensure a memorable end of the year celebration.
Each year, the action starts early in the month of December when Singaporeans, residents and visitors are invited to compose their New Year wishes on white wishing spheres (online wishes are also possible!). This year 20,000 spheres are expected to be set afloat in
Marina Bay
to create an impressive and inspiring visual arrangement.
To kick off the festivities, some free music performances are usually held on St. Sylvester: 
This year at the Marina Bay Waterfront Promenade between 5pm-7pm, a concert will be held in conjunction with the monthly event "Rhythms by the Bay"; then later on, some of Singapore's new talents will perform during the free "Happy 3+65" concert at the Promotory@Marina Bay between 10pm and 1am.
Singapore's unique Goflykites, will also take part to the visual display on that night. The small remote-controlled planes with LED lights that used to cross over
Clark Quay
's sky nights are now flying 3 days a week at the Open Field near Marina Bay Sands.
On the last minutes of the year, when the Esplanade Waterfront & Marina Bay Waterfront Promenade are the most crowded, many gather and gaze at the much anticipated 'Fireworks and Light' show. During 8 minutes of multi sensorial delight, fireworks, lights and water waves play in perfect harmony with an exciting musical score. This year the musical work created by Cultural Medallion winner, Mr Iskandar Ismail, which will be performed with some vocal supports, highlights strong Southeast Asian influences featuring instruments such as the Chinese erhu and suona, the Indian flute and some Malay percussions. The show themed "Dari Tanah Ini", which means "From this earth", promises to be stunning. It will broadcast live on Channel News Asia, MediaCorp Channel 5, and MediaCorp radio station Symphony 92.4FM.  Check the
Marina Bay Singapore Countdown 2013
for more details.
Photo Courtesy Esplanade- Theatres on the Bay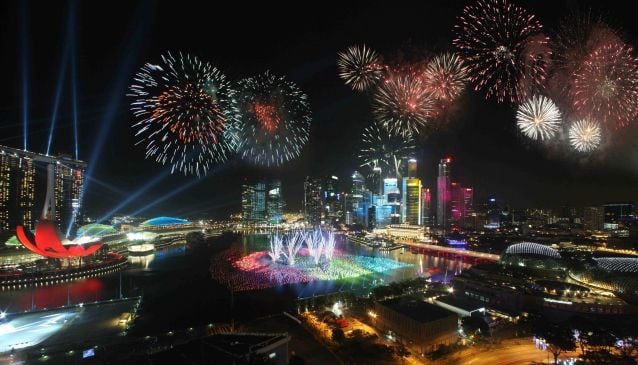 If bikinis and bobbing up and down all night at a beach party is more to your liking, then head down to Sentosa Island for the other pyrotechnics display of Singapore.
The main focus on that night will be the 
Siloso Beach Party
, which each year draws a young-and-beautiful party crowd of thousands... During 12 hours of pure hedonism, some of the most popular beach clubs of Singapore will join forces to set up the hottest and biggest beach party in Asia. Whether on the sandy dance floor or in a rowdy foam pool, the event will go wild with no less than 5 venues and more than 20 DJs to choose from.
Before you get your tickets make sure you check the event's website, its "Survival Kit" and "Party Rules" so that you won't get frustrated for not being able to swim during the event. Then join the revelry that lasts until dawn, when locals and visitors watch the first sunrise of the New Year.
Photo Courtesy Sentosa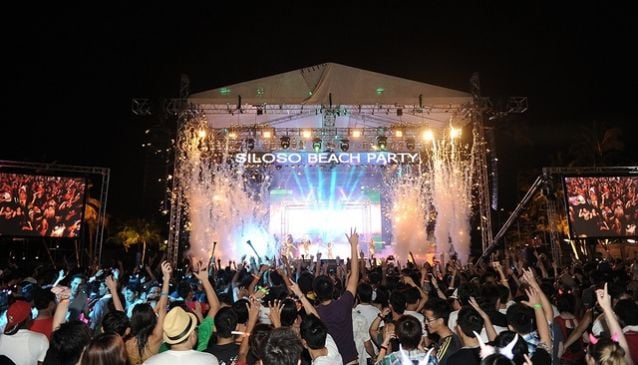 The best New Year's Eve parties in a city often take place at a rooftop location where you can enjoy a splendid view of the firework. It goes without saying that tickets are more expensive on New Year's Eve and are also subject to an entrance fee to control the crowd. Hence, advanced booking is strongly recommended. Here's our selection of Cocktail and Rooftop Bars in the Marina Bay area.
Photo Courtesy Fullerton Bay Hotel Singapore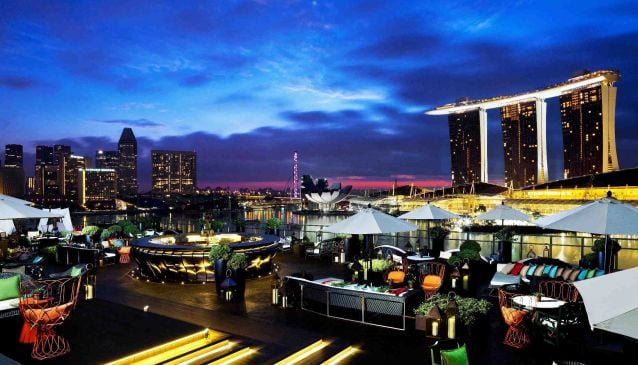 A private river cruise along the Singapore River can be a romantic way to bring in the New Year. Most boats plan to berth in sight of the Marina Bay fireworks at midnight so you will get the best view. Whether on a bumboat or a private one, step on board for a scenic cruise along the Singapore River and Marina Bay. Choose your preferred boat on our Singapore Tours section.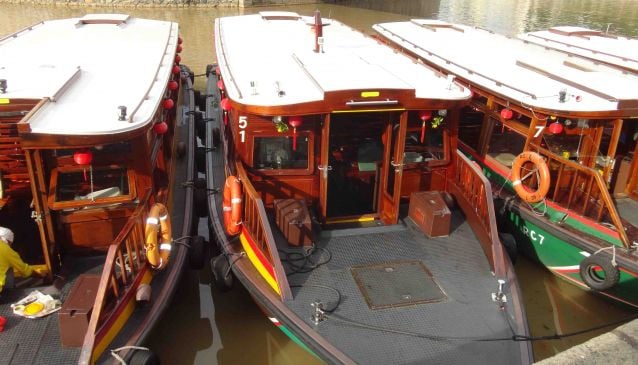 For crowd-controlled celebrations or something more sedate, make a reservation at one of the many fine-dining restaurants in Singapore. Western and Asian celebrity chefs, all take pride in presenting the best of their culinary art on the final evening of the year. Needless to say the scenic establishments with a direct view of the fireworks will offer the most expensive menus. So, if you want to experience fine dining for a reasonable price given the occasion, opt for an early dinner at a more remote restaurant and then use public transport to attend the firework show.
Singapore is one of Asia's favourite destinations to herald in the New Year with great panache. So don't hesitate! With these top 5 places to celebrate New Year's Eve in Singapore, you can be sure your last night of the year will be a memorable one.
Tips from our local experts:
Check the map provided by Marina Bay Singapore to find the best spots in the Marina Bay area.
Reserve your best scenic rooftop bar or restaurant at least 1 to 2 months in advance.
Plan to use our excellent public transport, as the queues at taxi stands will be long on New Year's Eve.
To ensure your best seats at the Marina Bay Waterfront Promenade on the 31st December, come early as the performances usually start at 5pm.
For some more options, check our popular Events Page, which is updated on a regular basis. 
Wishing you a very prosperous New Year from Singapore!