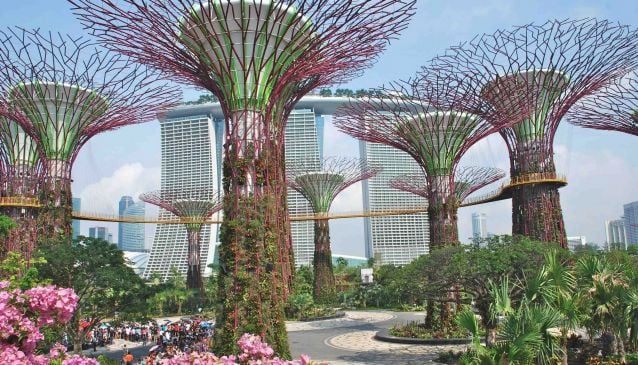 10 Fun Facts about Singapore
Hot List
Nearly 50% of the city - island is greenery...
Singapore, also known as the City in a Garden, really is a far cry from any ordinary city. Mainly known for it's shopping malls, celebrity chef restaurants and exceptional attractions such as the Marina Bay Sands or Gardens by the Bay, there are also countless temples, serene parks and an outstanding array of fauna and flora.
And, there are a few fun pieces of trivia that you wouldn't find out about unless you dug deeper. We, the local experts at My Guide Singapore, are happy to share what we have found out from out various different sources. So, sit back and enjoy...
Singapore has 4 official languages: English, Chinese, Malay and Tamil and a rich history and culture that comes with the many different ethnicities living here.
Singapore's land size was 581,5 km in the 1960's and has since grown to an impressive 710km. That's an increase of 22%. Through land filling, the city-state has plans to grow by another 100 km until 2030, nearly doubling the former size of the island. One example of how land filling was used to create new space is the Marina Bay.
Singapore was originally known as Temasek, meaning 'sea town' in Javanese. Later, in 1299, an Indonesia King who visited the island and mistook an unknown creature for a lion named it Singapura, which is Sanskrit for Lion City. Yet, it is known that there were never lions living on this island. Today, the Merlion is Singapore's mascot.
In 1826, when Sir Raffles Stamford arrived at the banks of the Singapore River, the island had a population of 1,000 Malays and only 20-30 Chinese. Now, the island counts about six million people with a majority of 74.2% being of Chinese origin.
Singapore is the second densest sovereign state in the world, after Monaco. It is also the sixth wealthiest and the 20th smallest country in the world. Known for brands such as Singapore Airlines, Tiger Beer and Tiger Palm, Singapore is also very popular as a global meeting and events venue.
There are 17 reservoirs and 4 nature reserves across the island with more than 1.3 million trees, earning Singapore the name of 'City in a Garden'. Currently, 178 trees are listed as 'Heritage Trees' of which 14 alone can be found in the Botanic Gardens. Nearly 50% of the city-island is greenery.
Singapore has impressive greenery in high-rise buildings – a total of 50ha are rooftops and roof gardens. The three highest buildings are located in the Central Business District, each standing at an impressive 280m tall. Even though offices occupy most of the space in these prominent towers, some top floors are set aside for restaurants, offering amazing views.
The Sands SkyPark is an architectural masterpiece sitting on top of the three hotel towers at Marina Bay Sands. This 1.2-hectare tropical oasis is longer than the Eiffel Tower is tall and large enough to park four-and-a-half A380 jumbo jets. It extends to form one of the world's largest public cantilevers. Don't miss this amazing highlight when visiting Singapore.
Photo Credits Timothy Hursley
The highest natural point is Bukit Timah Hill, which is only 164m high, yet it contains more species of trees than the entire North American continent. For nature lovers we also recommend MacRitchie Reservoir, Sungei Buloh and Bukit Brown.