Memorable Mementos of Singapore
Arts & Culture
Their dolls refer to Chinese immigrants who came to Singapore to search for work...
Elizabeth Kain for My Guide Singapore
Singapore boasts some of the world's best shopping and for those seeking souvenirs, there are plenty of options. The country's blend of Chinese, Indian, Malay, and Western cultures means that these trinkets can originate all over; however, this is just part of the country's multiethnic charm. So, if you are looking for a memento to remember your holiday by or something simply to bring back your loved ones, you'll need to indulge in some Singapore shopping. Visit these shops for a good selection of Singapore souvenirs – from chopsticks to textiles and handcrafted figurines...
1.      Lim's arts and living
Lim's offers one-stop shopping for Asian handicrafts. If you don't have time to go to Chinatown and Little India, this is your place. Here, you can browse at gift items from all over the region, including Singapore. You'll find lovely lanterns from Vietnam ($19 and up), Pashmina shawls from China and Nepal (starting at $28), jewellery boxes, Indian style handbags ($20 and up), and much, much more.
Opening hours: 10am to 8.30pm daily
Address:  211 Holland Avenue, #03-43A, Holland Road Shopping Centre
Tel: +65 6466 8132
Website:  www.lims.com.sg
2.      Tay Guan Heng
This family-run business specialises in handcrafted figurines and other artwork. The tradition goes back several generations, when the family made elaborate joss sticks for temples and festivals. Today, the lion's share of its business goes to an international audience who order bespoke Chinese-inspired crèches, angels and gingerbread houses. Also available are wonderful characters from Chinese culture including water carriers, fisherman, and more. Small figures (12 inches) start at $48 and upon request they can usually get them done in 4 – 5 days.  They will also ship.
Address:  Block 4001 Ang Mo Kio Industrial Park 1, #01-25, Singapore 569622
Tel: +65 6454 1252
Opening Hours: 9.30am to 6pm, Monday to Saturday, closed on Sunday
3.      Little India Arcade
A trip to the Little India Arcade is a treat for all senses. Colourful fabrics delight the eye and fragrant incense permeates the atmosphere exuded from this exotic bazaar. Here you'll find everything Singapore has to offer in souvenirs from India. You can get a henna treatment for your hand (starting at $3 at Selvi's), a rainbow of bangles (from $5/pack at Jayram's Creation), hand embroidered saris (from $80 at Continental Little India), shawls ($15), and other items.
Opening hours: 9am to 9pm, Monday to Saturday and 9am to 6pm on Sunday
Address: 48 Serangoon Road, just opposite Tekka Mall
4.      Pagoda Street
Step out of the Chinatown MRT station onto Pagoda Street, a pedestrian shopping mall that offers tourists a breadth of Chinese-themed souvenirs such as silk fruit baskets (3 for $10), chopsticks (starting at $1), and fans (from $2). Check several shops before purchasing and be sure to bargain. 
Address:  Chinatown
Opening hours: The small shops begin opening at 10am and closing at 8pm daily.
5.       Mustafa Centre
If you don't mind a bit of hustle and bustle while shopping for souvenirs, come to Mustafa, where you can find just about anything you need. Jewellery can be found on the first floor with fresh water pearls starting at $20 a string. Singapore's signature batik (handbags starting at $10) and T-shirts ($13.50) can be found on the second floor. Cashmere shawls are a steal at $19.90 on the third floor.
Opening Hours: Open 24 hours a day, 7 days a week
Address:  145 Syed Alwi Road, Singapore 207704
Tel: +65 6295 5855
Website: www.mustafa.com.sg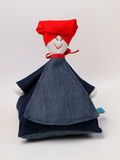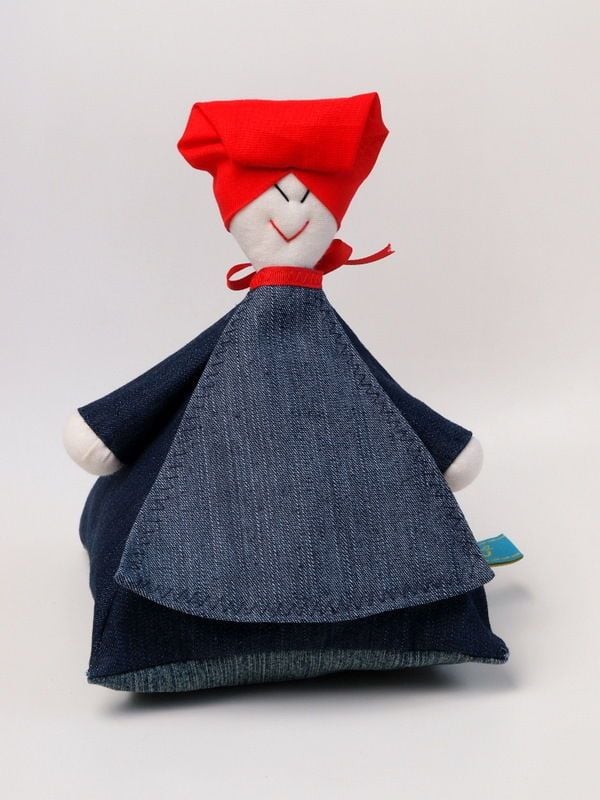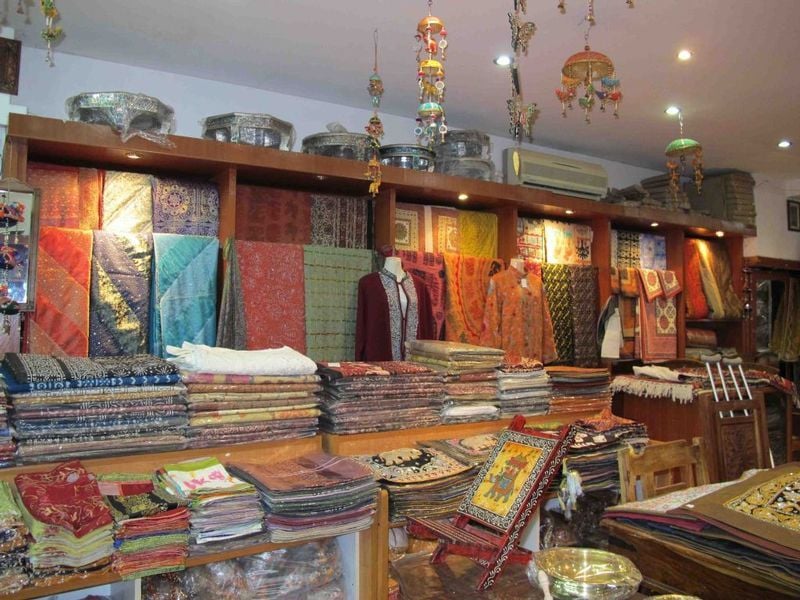 6.      Dilip Textiles
Occupying the ground floor of a shop house in the heart of Arab Street, Dilip offers a lovely array of table clothes ($31 for 150 x 220), napkins ($2 each) and placements (set of 6 including napkins for $42). The colourful textiles, which are imported from India, are well crafted and come in lovely colours, and are sure to liven up any table setting. Dilip also carries silk scarves in a variety of patterns for $13.
Opening Hours: 10am to 6:30pm from Monday to Saturday, Sunday by appointment
Address: 74 Arab Street
Tel: + 656293 3633
7.      Kinokuniya Books
The flagship Kinokuniya Bookstore covers a whopping 43,000 square feet and offers 500,000 titles in English, Japanese, Chinese, French and German. The store has a wonderful children's section featuring favourites from the United States and Great Britain. There are also a large array of beautiful coffee table books that focus on Singapore as a destination.
Opening hours: 10am to 9:30pm, daily
Address: 391 Orchard Road, Ngee Ann City, #03-09/10/15, Takashimaya Shopping Centre
Tel: +65 6737 5021
Website: www.kinokuniya.com.sg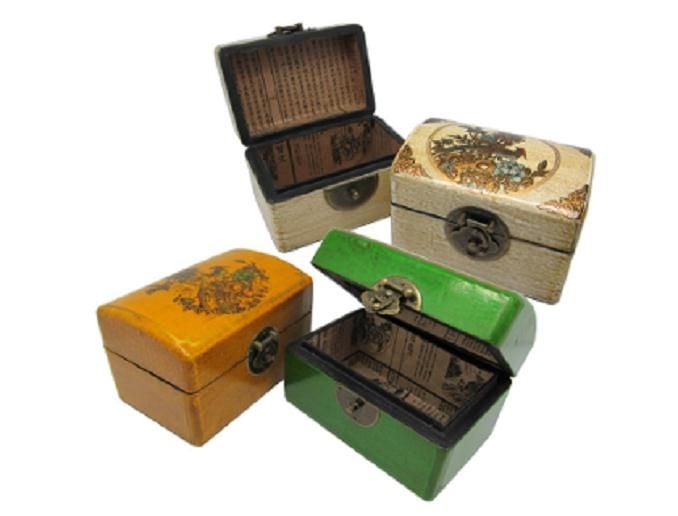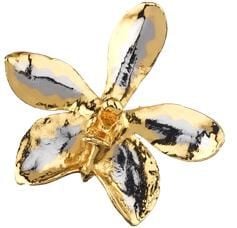 8.      China Collection
Anne Lockett, owner and founder of China Collection, has lived in Singapore for 15 years.  Her shop, situated in a lovely old "Black and White" home, is a reflection of her passion for Chinese antiques. While the focus is mostly on furniture, there are also a number of beautiful reproduction and antique items that can easily fit in your luggage, including porcelain figures (3 for $60), stone napkin rings (6 for $25), wedding baskets ($130), and calligraphy brushes (starting at $15).
Opening hours: Monday to Saturday from 10am to 5pm and Sunday from 12noon to 5pm
Address: 20 Malcolm Road
Tel:+65 6235 1905
Website: www.chinacollection.com.sg
9.      Risis Corners
If you want something truly Singaporean, take home a silver or gold-dipped orchid blossom (starting at $56). Risis is a premium lifestyle gift company, established in 1976, that specialises in crafting jewellery and ornaments accentuated with semi-precious stones and crystals. These 24k gold pieces can be made into a necklace or brooch to remind you of the tropics long after you return home.
Opening hours: 10am to 9.30pm daily
Address: Risis Corners can be found inthe Takashimaya Department Store, level B1, 391 Orchard Road
Website:  www.risis.com
10. The Mother and Child Project 
This social enterprise helps mothers, mostly single mothers with children, by providing them with home-based work so that they can become economically self-sufficient. While this fact already is a good reason to buy their work, it's the story behind the handcrafted items that is just as compelling. Their dolls "Samsui woman" refer to Chinese immigrants, who came to Singapore between the 1920s and 1940s to search for work to support their families back home. These very poor but proud women refused all jobs involving drugs and prostitution preferring to work in extremely difficult industries such as construction. Their hard work was later recognized as a significant contribution to the country's development, making them iconic in Singaporean history. The name Samsui is derived from Sanshui, a region of the Guangdong Province in China from where most of these immigrants came from. Their outfit, a blue suit and a red hat, is the main feature of these distinctive little dolls. A fantastic doorstop or key chain, these dolls make a very meaningful gift but also help to share the sentiment of a very important story.
Available at Piece of Mine, a shop for contemporary Asian art and interior décor
Opening hours: Monday to Saturday from 12.30pm to 7pm (closed on Sundays)
Address: 16 Mohamed Sultan Road, #01-01
Phone: +65 6440 4886
Website: motherandchildproject.com