Chingay Parade 2013
Arts & Culture
Chingay Parade is not only a beautiful, glittering event...
Our Top Experiences and Tours in Singapore:
If youʻre booking your trip to Singapore last minute, we have you covered. Below are some of the top tours and experiences!

Myriam Ohlig for My Guide Singapore

If you happen to travel to Singapore during the month of February, you will find a splendid street parade with thousands of enthusiasts of all ethnic groups, something which portrays the multi-cultural spirit of the country.

Background

 

Although the flamboyant and cheerful fiesta might remind some of the Mardi Gras Carnival found in many western countries of Christian tradition, Chingay Parade originated in the folkloric

Chinese New Year

procession.

The word 'Chingay' is the phonetic form of the Hokkien character to describe "the art of costume and masquerade". It comes from the Chinese tradition, where pugilists, dancers, miniature floats and giant replicas of dragons and lions would parade in the streets to celebrate

Lunar New Year

. Although it is found in most countries with large Chinese populations, in Singapore Chingay Parade was introduced with an official ceremony in 1973 by

Lee Kwan Yew and the People's Association (PA)

. It was meant to enhance the festive mood after firecrackers had been banned from the festivities due to a fire mishap.

 

Over the years, the tradition has evolved into this iconic event, where all citizens, whatever their ethnic groups, creed, language, age or background come together to reaffirm and celebrate Singapore's unique multi-cultural identity. Today, Chingay Parade has gained an international reputation, attracting each year an even larger audience of locals and tourists. Colourful performances, multi-ethnic folklore, picturesque costumes, state-of-the-art robotic floats and fabulous fireworks: these are some traits of an ever flourishing Chingay Parade. It is little surprise that in October 2012 is was named "Leisure Event of the Year" at the Singapore Experience Awards.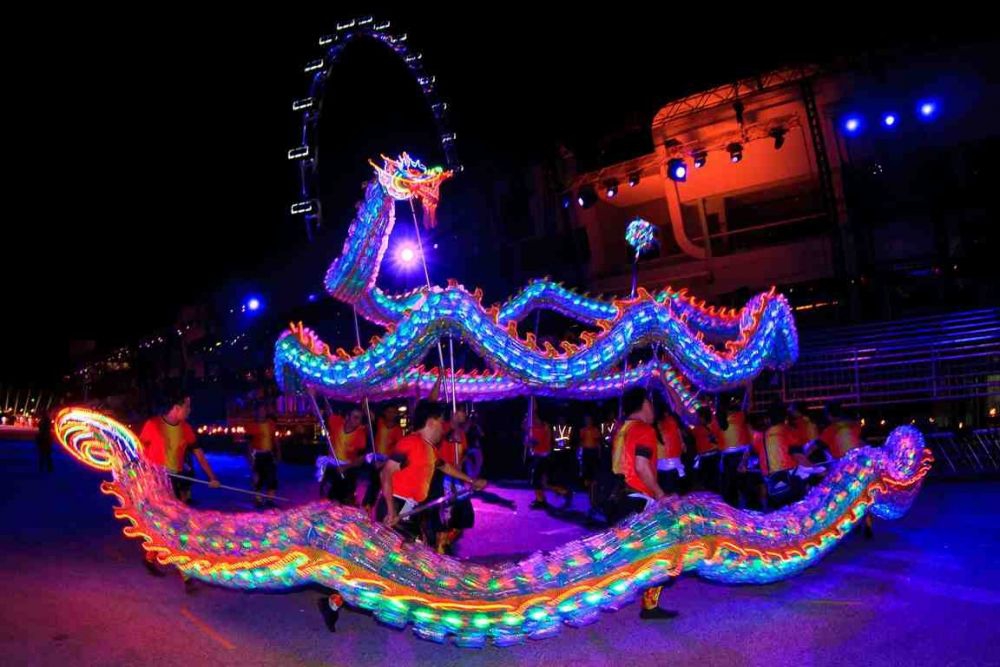 Chingay Parade 2013
The 2013 edition (Fri 22 & Sat 23 February, 8pm) is designed around the theme "Fire in Snow" and will fill up the F1 Pit Building in
Marina Bay
with a profusion of entertainments.
Chingay Parade 2013 will celebrate the strength of the human spirit, represented by the Fire, winning over our daily struggles, symbolised by the Snow. To illustrate this theme, a stack of captivating acts will wow an expected 160,000-onsite audience and 65 million television viewers. 3,000 performers will light a 360-meter long parade of used fire pots and woks; there will be a live recital of Wen Tian Ziang's poem "Song of Righteousness", accompanied by singing, Taichi sword performing and a calligraphy display; and snow will fall over the F1 Pit Building.
Chingay Parade 2013 will also feature some abstracts of the famous Beijing Opera "Lady Generals of Yang Family" by Chinese composer Du Mingxin, for which 300 members from the Teochew Drama Association, Singapore Bukit Panjang Hokkien Konghuay Opera Troupe and Queenstown Community Centre Cantonese Group, will join their lyrical voices.
During the Chingay Parade, folkloric dance performances are always widely admired. This year a Peach Blossoms troupe of 450 beautiful women from Singapore and China will charm the audience, along with some gracious dancers swaying to the sound of Indian and Malay traditional rhythms.
You can also expect some 1,500 ukulele musicians with a people's choir of 500 residents to perform a medley of inspiring songs, while a huge contingent of 1,000 members of the Passion I Zumba will entice the house with the popular Latin-inspired fitness program.
On that event over thousands of marshals, ushers, motivators and more than 10,000 passionate performers from local organisations, such as community clubs, interest groups, ethnic bodies, schools and foreign communities in Singapore will contribute to the success of Chingay Parade 2013.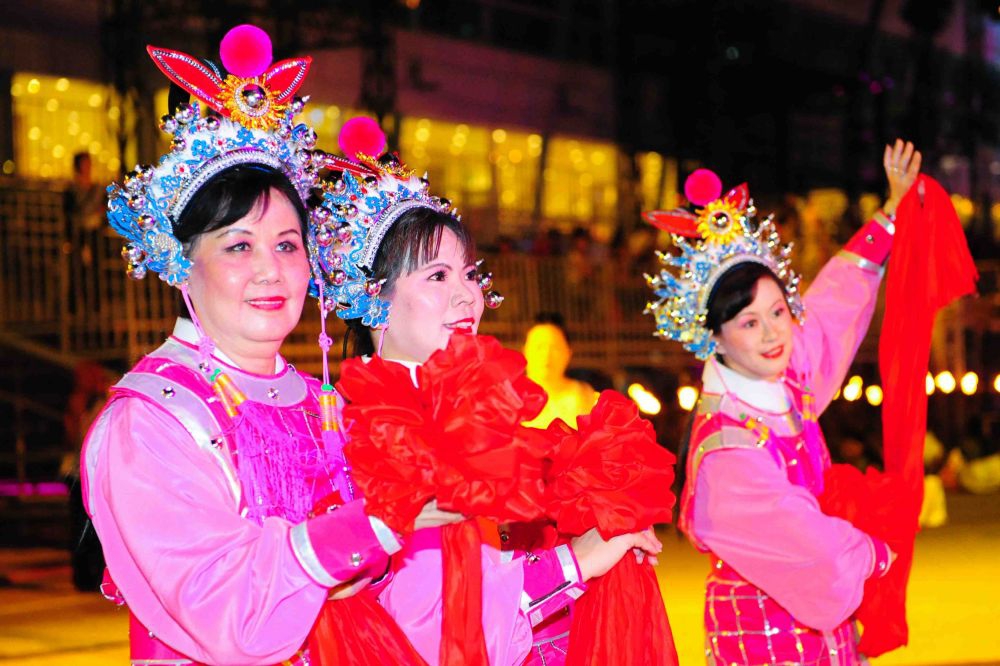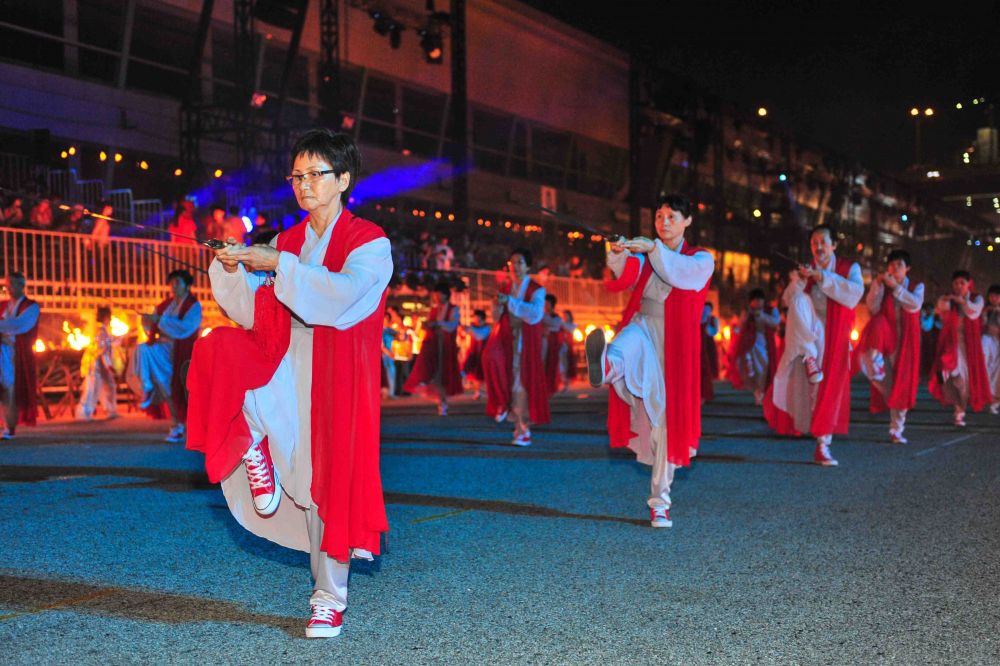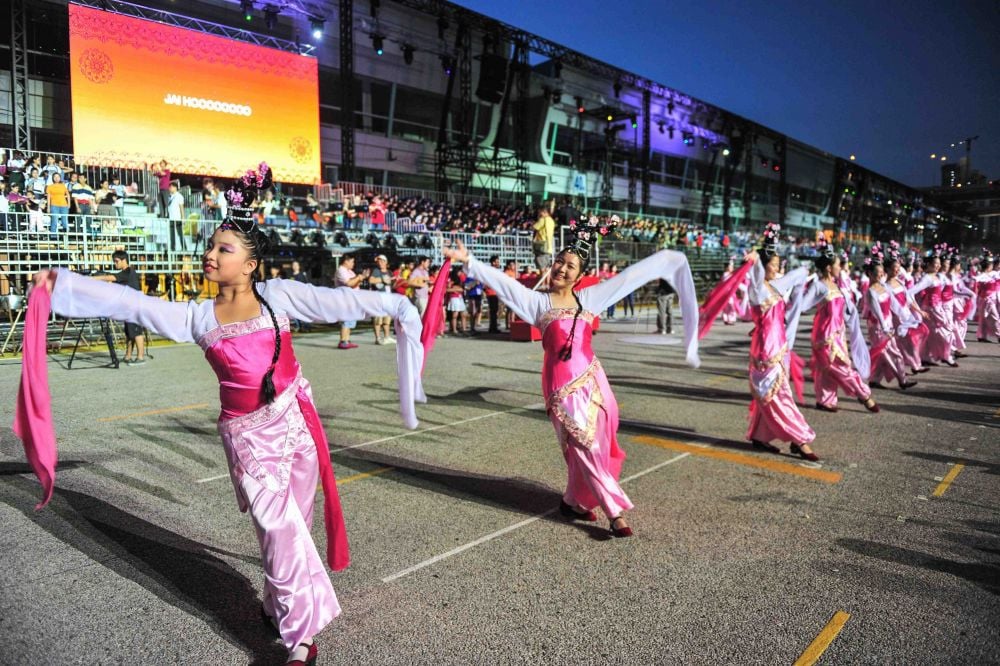 Chinese, Malay, Indian and other Singaporean citizens will participate in the show, but also performing troupes from abroad. Spectators will marvel at some tribal acts from Indonesia, contemporary dance performances from Philippines and taekwondo martial arts from South Korea, while stilt walkers from Malaysia and France will join the striking procession. And for those who attended Chingay Parade 2000, rejoice as the colourful "centipede", a centuries-old traditional dance from China, will crawl, swift and swish around the F1 Pit Building adding excitement to the superb pageant.
Chingay Parade is not only a beautiful, glittering event, it is also the opportunity to promote the country's community spirit, bringing all citizens together, the various ethnic groups and "resilient Singaporeans". 
The physically challenged, sick, care-givers, youths, senior citizens and new citizens all join the event cheering together: "Chingay, Chingay, we are one! People, people, we are one! Parade, parade, we are one! Singapore, Singapore, we are one!" 
With this extravaganza of costumes, dazzling floats, creative acts, sumptuous fireworks and cheerful atmosphere, you will perceive the energy and enthusiasm of all these thousands of volunteers and will better understand Singapore's multi-cultural spirit.
Watch our Chingay Parade 2013 video and see how splendid it was.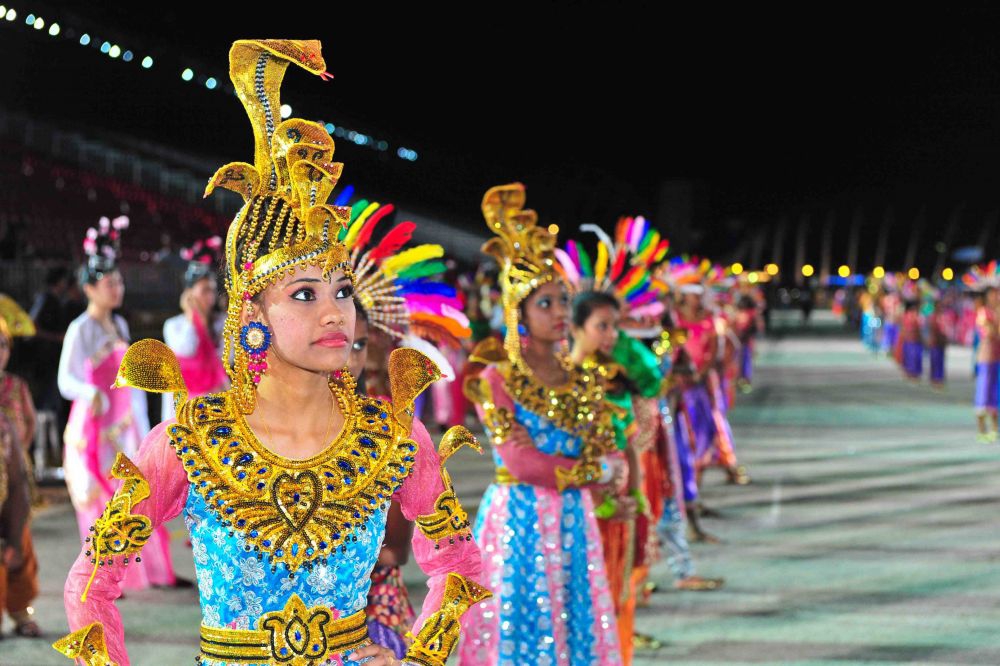 Did you know?
Chingay Parade 2013 celebrates this year its 41st anniversary. The first Chingay Parade took place on 4 February 1973 with only 1,575 volunteers starting their procession from Jalan Besar, passing through North bridge Road and South Bridge Road, ending at Outram Park.
The woks and pots that will light up this year's Chingay Parade's walkway were donated by Singapore's residents through some of the country's 106 Community Club (CC) members. The size of the used woks and pots all range from 40cm to 60cm.
After the parade, the used woks and pots will be recycled and the funds collected will be channelled to "Chair for a Cause" at Chingay 2014. 
Chingay's "Chair for a Cause" is an initiative to integrate 6,000 cancer and terminally ill patients, physically challenged individuals as well as those from low-income families into Chingay Parade 2013, either as performers or audience members.
Admission tickets are available from S$28.50 to S$60.
PAssionCard Members are entitled to 20% discount.
If you wish to perform at the next Chingay Parade, you just need to fill in the form available on the website (Volunteers section) and send it to PA_SCENE@pa.gov.sg usually before the end of August. Whereas volunteers to help out during the parade are welcomed to register until one week before the event date, subject to vacancies availabilities.
Chingay Parade won in October 2012 the "Leisure Event of the Year" title at the Singapore Experience Awards 2012, before Universal Studios' Singapore's Halloween Horror Nights and ZoukOut Singapore.
For more information visit www.chingay.org.sg