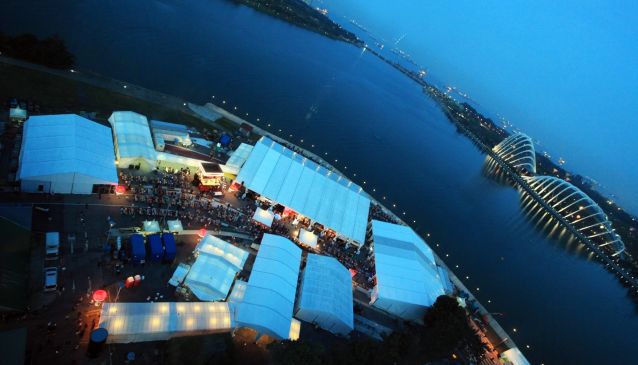 Beerfest Asia
Editorial
With a choice of over 400 beers from 30 countries, our sample suggestions might come in handy.
Monika Khaled for My Guide Singapore
Beers and Ciders have come to be the trendy & chic drinks in Singapore lately and the Beerfest, currently in its 6th edition, attracts an amazing crowd of over 30,000 people.
Aimed at the casual social drinker, the serious beer connoisseurs as well as the industry experts who come together over these 4 days, to drink beer but also to network, to do business and to participate in beer appreciation talks, workshops and auctions.
For the public there are exciting games with prizes to win and for the Family Day on Sunday there is also a Brewkids Playard with games and music workshops.
With a choice of over 400 beers from 30 countries, our sample suggestions might come in handy.
Our Top-4 Brewery Suggestions:
The award-winning, full-flavoured Pilsner Blue Sky is brewed in traditional Czech-style by Blue Sky Brewery in Australia using imported Saaz, a noble variety of hops found only in the Czech city of Zatec.
German brewery Wunderbar brings with its two new varities: the Wunderbar Pilsner and the Alcohol-free Wunderbeer. Both offer a fresh, crisp and light taste, which differs from typical draft beers.
The recommended cider to taste comes from South Africa and is only available at the festival. Savanna Dark, in a limited edition black bottle, possesses a very distinctive crisp apple taste.
Italy's Baladin Beers brings a serious of hand-crafted beers flavoured with exotic spices and aromatic herbs. "Isaac" is made from raw wheat and infused with coriander and orange zest whereas "Nora", also wheat based, uses myrrh and ginger.
Entertainment is always a huge factor when it comes to such festivals and the Beerfest will not let you down. Here are the Top-3 Bands not to be missed:
Killer Queen, a band from Australia, is a favorite at all Beerfest Asia events and will bring you all Queen hits in full costumes.
Another Australian based band is Chick Flick and, as the name suggests, it is an all-girl rock band. Expect the crowd to go wild with songs from Guns & Roses, AC/DC and Bon Jovi.
Local talents from Singapore and Japan come together in the prominent band JS Funk and their upbeat performances will include funk, soul and jazz.
The Beerfest 2014 is held from at the Marina Promenade just next to the Singapore Flyer.
Dates & Times:
Thursday, 12 June 2014 from 3pm to 5pm for trade visitors
Thursday, 12 June 2014 from 6pm to 1am – open to public
Friday, 13 June 2014 6pm to 2am – open to public
Saturday, 14 June 2014 6pm to 2am – open to public
Sunday, 15 June 2014 12noon to 10pm – Family Day
Tickets range from SGD 20 for a simple day pass to SGD 180 for exclusive VIP Packages.
For more information check out our Events guide to Beerfest Asia. Watch our video of the Beerfest Asia 2014!