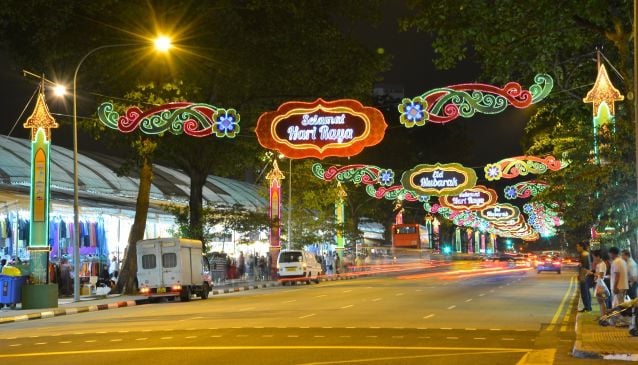 An Inviting Journey to Singapore's Malay Culture
Arts & Culture
This is how Malay Singaporeans keep alive their vibrant culture and community
Myriam Ohlig for My Guide Singapore
For one whole month, from the 27th June to 28th July 2014, Singapore honours its
Malay community
as it celebrates Ramadan and Hari Raya Puasa, one of the main
festivals
of the country.
This is a unique opportunity for all to discover the Malay culture and community, the rich history of Geylang Serai as it turns 50 and better understand the religious meaning behind Hari Raya Puasa. This year, besides the traditional street light-ups and colourful Geylang Serai Bazaar, each week-end will be punctuated by a series of cultural performances, games and activities for which you are all invited. Follow the guide!
Ramadan is the ninth month of the Muslim calendar and for believers of Singapore and all over the world, it is also the holiest period of the year -a time for prayer, self-examination, almsgiving and fasting. During Ramadan and from first light until sundown, all healthy Muslim adults are expected to abstain from food, drink and sensual activities. Hari Raya Puasa marks the end of Ramadan and falls this year on 28th of July.
In observance of these principles, the festivities organised in Singapore for Hari Raya Puasa 2014 revolve around four themes.
In the Dynamic Spirit of Gotong Royong, which illustrates the act of charity, low income families of the local neighbourhood will be offered a token sum and groceries and invited to break-fast during the Geylang Serai Habuan and Iftar for Needy Residents.
The Religious Significance of Hari Raya Celebrations will be emphasized with some Qasidah art -a form of Perso-Arabic lyric poetry.
With Geylang Serai celebrating its 50th anniversary, visitors will travel back in time, discovering The Rich History of Geylang Serai through Black & White 60s movies. Located in the Joo Chiat area, Gelang Serai is the other important Malay precinct of Singapore, besides Kampong Glam. It's also well known for its popular Geylang Serai Wet Market and Food Centre.
During this Ramadan season, you'll discover how Malay Singaporeans keep alive their Vibrant Culture and Community. There will be various showcases of traditional Malay activities and art forms such as games, musical Instruments, song and dance performances, handicrafts for weddings and the lively and popular Dikir Barat, for which a group of 15-20 members sits crossed legged on the floor, then clap and sway along with some Malay percussions. And if you wish to better understand the history and significance of Ramadan and Hari Raya Puasa, the organizing comity has also prepared some walking trails at the Cultural Discovery Race with plenty of fun and interactive activities.
Each Year during the Hari Raya Puasa season, Geylang Serai attracts many Malay families and visitors at night to gaze at the festive and heart-warming street light-ups. This year it stretches majestically on both Sims Avenue and Geylang Road on 1.3 km. Its design is largely inspired by meaningful symbols of Islam such as the Crescent and Moon, Turkish-style minarets and mosques. And if you take a closer look, you'll notice some patterns used in traditional Malay houses like gable and pyramidal roofs, floral wooden carvings but also some other Malay elements such as basketry and batik patterns.
The other main attraction is definitely the Gelang Serai Bazaar. The huge pavilion draws many for
shopping
as it is the time of the year for our Malay friends to refresh their homes with new furnishings such as curtains, carpets and also their wardrobes with a new sarong kebaya, a hijab or a songkok hat. Yet the main draw here are the stalls of delicious Malay food that gather many when it's time to break-fast. Nasi Lemak, Nasi Goreng, Nasi Padang, Mie Goreng, Mie Hoon, Goreng Kedelek, Otah Otah are some of the feast to be found. Not to mention the colourful drinks called Air Kathiras, which are so refreshing and reenergizing after a long day of abstinence!
Mark your calendar
All activities and performances organised for the Hari Raya Puasa 2014 will be held from 8-9.30pm at Lorong Engku Aman, between Gelang Serai Road and Sims Avenue (Paya Lebar MRT station).
Saturday 28 June 2014: Cultural song and dance performances.
Friday 4 July 2014: Qasidah.
Saturday 5 July 2014: Geylang Serai Habuan and Iftar for Needy Residents.
Saturday 12 July 2014: Dikir Barat and other showcases of traditional Malay activities and art forms such as games, musical instruments, song and dance performances, handicrafts for weddings.
Friday 18 July 2014: Black & White 60s movies- Seniman Bujang Lapok (1960s)
Saturday 19 July 2014: Cultural Discovery Race
Friday 25 July 2014: Black & White 60s movies- Si Tanggang by Shaw Brothers Film (1950s)
Watch our video of Hari Raya Puasa 2014 in Geylang Serai and get into the festive mood!
SELAMAT HARI RAYA 2014 from Singapore!