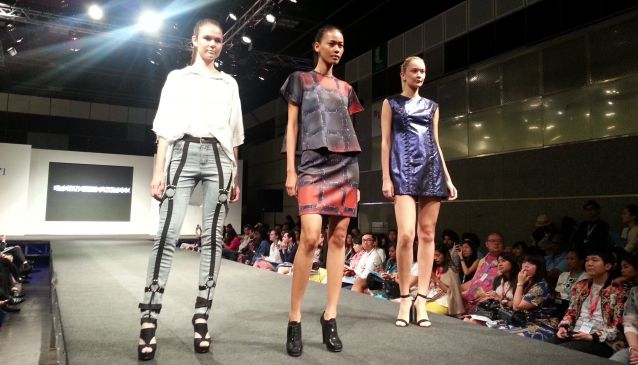 Blueprint 2014
Arts & Culture
turn your dreamy aspiration into a course of action
Myriam Ohlig for My Guide Singapore
Are you a passionate fashionista always on the look for the next fashion trend or a fashion designer trying to take your career to the next level in Asia? Then Singapore's Blueprint is the one event you shouldn't miss.
As part of Singapore's fashion week-
Asia Fashion Exchange
and along with the
Audi Fashion Festival
,
Asia Fashion Summit
and
Asia Star Creation
, Blueprint draws each year a valuable host of fashion lovers and fashion professionals from Singapore and abroad. Through its Tradeshow and Emporium segments, this propelling platform offers emerging and established designers the opportunity to meet and mingle with consumers, buyers, distributors and showrooms in search of remarkable articles. Here's what to expect at the Blueprint 2014.
Blueprint Tradeshow
Blueprint is first of all a tradeshow that serves as a fashion trade gateway to Asia and creates business opportunities between international buyers and promising designers. This is a great platform for Asia's best emerging and established talents to showcase their latest collections but also for international brands looking to enter Asian markets.
Held at the
Suntec Convention and Exhibition Centre
on Thursday 15 and Friday 16 May 2014, Blueprint 2014 Tradeshow features an impressive host of 167 brands from 29 countries and over 100 international buyers, especially from Greater Asia (27%), South East Asia (20%) and the rest from USA/Canada, Europe, UK, Middle East and Australia.
Buyers can see here products that are new and different and choose the ones in line with what their customer is looking for.
Blueprint will kick off with a multi-label fashion show made of
local
and international brands- Abcense, Bitching and Junkfood, FABITORIA, jan|sober, Morphe, NATALIEBCOLEMAN, RÊVASSEUR, RICO RINALDI, ROGGYKEI, SVETLANA KUSHNEROVA and ZÊ QUUN.
Then expect more fashion shows of other Asian designers- J KOO, AL'Manita and Phuong My. Then
Singaporean talents
-
Depression
, Pauline.Ning and Ange Révolte will show off their latest collections.
Other highlights:
AFS@BP: Dos and Don'ts for Designers in the Europe Market or How to Create a Multi-Touch Marketing Campaign
Tonight We W.E.D (Wear Emerging Designer)- Blueprint Welcoming Party at Zouk (By Invitation Only)
Blueprint Tradeshow, held on Thursday 15 and Friday 16 May 2014 (From 10am to 6pm), at
Suntec
Hall 401 & 402 (for trade visitors and professionals only).
Blueprint Emporium
Blueprint is also very popular for its 2-day Emporium segment during which, consumers are invited to partake in the gathering of designers with a massive
shopping
and lifestyle event. This year's edition of Blueprint Emporium brings together 167
local
and international brands, allowing consumers to have access to cull samples, limited edition items, and off-season collections – many never before stocked in Asia and often in sales.
Lookout for stylish accessories by Ling Wu, Una Burke and Bottletop, and sophisticated dresses by Fabitoria, Svetlana Kushnerova and Rico Rinaldi. This year you'll also find some childrenswear such as Le Petit Society, Gia Moda, Curiosity and Forty Red bangles. And if you're a popstar at heart, go for a Revasseur piece or a Abscence pair of shoes.
Other highlights:
Fashion Show of FUKUOKA ASIA COLLECTION in SINGAPORE featuring Pli Par Pli, azur, Quantize, MariettA and JRunway.
AFS@BP: Key Fashion, Fabric & Colour Trends for Spring/Summer 2015 and Growing Your Brand with Omni-Channel Distribution.
The Illumination- Blueprint Fashion Party 2014 at Zouk (By Invitation Only)
Blueprint Emporium is opened on Sat 17 (From 11am to 8pm) and Sun 18 May 2014 (From 11am to 6pm) at
Suntec
Hall 401 & 402 (opened to the public with free admission).
For the aspiring fashion designers
Do you have a special knack for turning raw materials into beautiful costumes and accessories? Do you long to break into the fashion industry? Then join a Fashion Design School and turn your dreamy aspiration into a course of action!
Although you can always launch your label without degree and can still get your way through the highly competitive fashion market, this is not the norm in this industry. Even with the most incredible talent, your chances of being a successful designer are considerably lower than for those who have received the foundation in the finances, the mentoring and the exposure to the business.
International students are advised to submit their applications three months before commencement of the term to ensure sufficient time to obtain their Student Pass.
And if you can't wait to get right into the action, there are several private workshops and programs to guide you along the way. Singapore fashion label
Noël Caleb
offers short Apprentice and Associate programmes to learn the entire process of designing and launching your very own fashion line.
Joining the Emporium is also a fantastic opportunity for budding designers to approach the more experienced ones. So come and take the plunge for fashion!
Our local tips:
Prepare your shopping spree at Emporium with a visit to the Blueprint the Wardrobe at Orchard Central (level 1), as it offers a sneak peek of the clothings you'll be seeing at Emporium.
Blueprint will be treating the first 50 shoppers to a spread of Pique Nique's signature pastries and sandwiches. So be there early this weekend!
Related articles