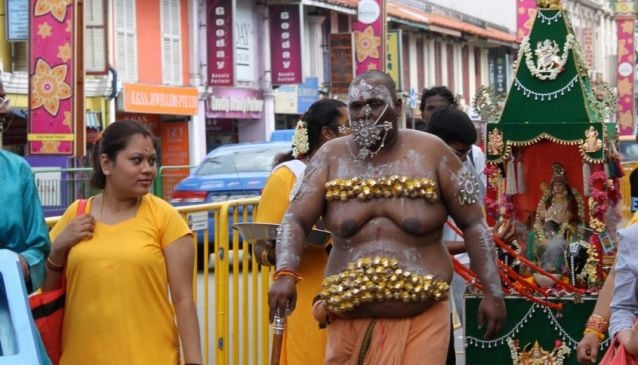 Thaipusam 2013 in Singapore
Arts & Culture
While praying and chanting to dizzying rhythms of drums...
Monika Khaled for My Guide Singapore
This Hindu festival is held during the full moon of the 10th Tamil month, called Thai. It usually falls in mid January and is celebrated each year within the Tamil community in Singapore. The highly symbolic celebration honors Lord Muruga, the god for youth, power and destroyer of all evil. In 2013, Thaipusam falls on the 27th of January. On this day, devotees seek blessings and offer their thanks by carrying milk pots and wooden Kavadis along a 5 km procession course.
To prepare for their long and heavy journey, devotees gather at Sri Srinivasa Perumal Temple along Serangoon Road in Singapore's Little India during the early hours. While praying and chanting to dizzying rhythms of drums, a priest attaches a spiked Kavadi on the shoulders of a male devotee while the extended family watches on for support. A Kavadi consists of two semicircular wooden or steel pieces and it is decorated with flowers, palm leaves and colorful peacock feathers.
Some devotees also pierce their tongues with skewers; others pull a Kavadi on wheels attached by hooks to their upper back. On their head they carry heavy milk pots as an offering to Lord Subrahmanya.
After several hours of preparation in the temple, devotees, accompanied by a large group of family and friends, leave one after the other the Sri Srinivasa Perumal Temple to go on the 5km walk to join Sri Thendayuthapani Temple on Tank Road. The festival is known mainly to insiders and locals but still attracting quite a crowd, so expect traffic to come to stand still in some parts along their way through Little India.
If you want to watch the spectacle, we suggest to start your journey at Sri Srinivasa Perumal Temple around 9.30am or earlier to experience the chants and piercings. Then accompany a devotee and his entourage along Serangoon Road and experience first hand the heavy journey they take on to thank their gods, stopping in front of temples along the way to receive blessings and encouragement.
Watch our video about Thaipusam to better understand what this festival is all about.
Tips from our local experts:
Devotees start preparing as early as sunrise yet with so many participants it takes nearly the entire morning until the last group leaves the temple. This means that even if you arrive in Little India as late as 10am you can experience the procedures of Thaipusam 2013 in Singapore.
In our opinion this event is for adults only as the chants and piercings might be too much of an experience for children.
Feel free to take pictures at all stages and even during the preparations in the temple. We experienced the devotees and families to be very encouraging.
Make sure to take off your shoes outside the

temples

. No other special clothing requirements.