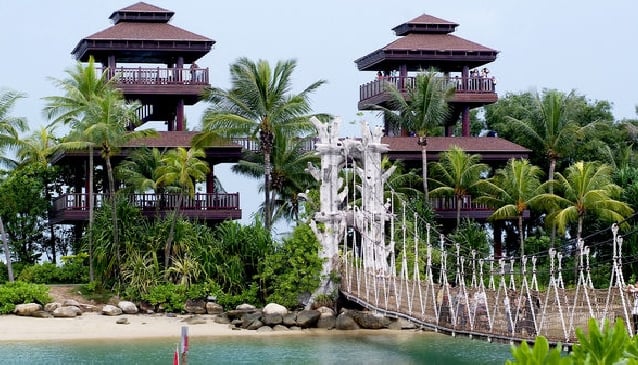 Discover Sentosa, Singapore
Adventure
go 'skydiving' in the awesome iFly indoor wind tunnel. It's a fantastic experience!
Sentosa Island is a must when visiting Singapore. It's known as "Asia's Favourite Playground" and this reputation is well earned. Put at least one full day aside to explore Sentosa, if not more. The palm-fringed island bursts with exciting Singapore attractions for all ages and everybody loves the dazzling golden beaches.
Along the coasts, funky lounges and restaurants tempt with their cosy beach chairs and pools. Hang out for the day on their shaded decks, feet in the water and enjoy the cool drinks and hot music. There is always a party somewhere, especially on the weekends.
On the green hills in the background, luxurious resorts offer great sea views, especially during the night, when all the anchored container ships turn on their lights. Sitting on one of the beach terraces and enjoying a meal or cocktail is just pure bliss after a day in the sun.
Some of the top hotels on the island are also equipped with day spas that will pamper you for hours. If you are on a budget or just want to try a new kind of pedicure, check out a fish spa. It's the swimming kind of "therapist" who will attend to your feet and the exfoliating is done by a school of tiny Turkish spa fish, giving you a nibbling massage at the same time.
An all-time family favourite is the Underwater World, known for its fantastic exhibition of marine animals and interactive tours where you can even feed and touch rays. A "rolling carpet" shuttles you through a tunnel under the sea so you won't fall over your feet while gazing at the sharks, turtles and all the other impressive ocean creatures all around you.
Leaving Underwater World, you can find Fort Siloso just outside on the right. It's Singapore's largest collection of World War II memorabilia. On the left side is the fancy Megazip Adventure Park, one of the newest additions to Sentosa. Get your belts on for the longest flying fox in Asia, a free-fall simulator, a treetop obstacle course and a thrilling simulated parachute landing. If you still want more adventure, go 'skydiving' in the awesome iFly indoor wind tunnel. It's a fantastic experience!
If you just want to chill, have a stroll through the lovely Butterfly Park & Insect Kingdom. It's a multi-sensory experience, with colourful butterflies filling the air and lush greenery all around. Or else, dive into the wave house and go on a refreshing ride. Kids especially love that and it's a great break if you are visiting Sentosa for the day.
One of the most recent additions is the Resorts World Sentosa with the Hard Rock Hotel and Café, a casino and shopping mall and several free open-air performances each evening that are free of charge. It also houses Universal Studios, which is an all-day outing on its own.
These are just a few of more than 30 attractions on Sentosa. There are also several beaches, some of which have volleyball nets or a hanging bridge to cross over to the small islets opposite the beach.
The choice is entirely yours, but we bet it's not going to be an easy decision of where to even begin...
Images courtesy of the Singapore Tourism Board